Movenpick Hotels & Resorts- East Africa Expansion Plan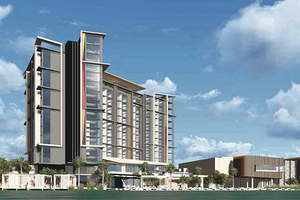 Mövenpick Hotels & Resorts has marked another milestone in its Africa expansion strategy with construction work on the 160-key upscale Mövenpick Hotel Abidjan now underway.
The foundation was laid on October 7 and a 2020 opening date was announced in a ceremony that boasted the acceleration of the Swiss hospitality firm's development plans in the Sub-Saharan region.
The company's first property in Côte d'Ivoire will be Mövenpick Hotel Abidjan and there are still 4 active upcoming projects in the region. The other three are Mövenpick Hotel Addis Ababa in Ethiopia set to open in 2019, Mövenpick Hotel & Residences Nairobi in Kenya, which is on track to open in 2018, and Mövenpick Hotel & Conference Centre Abuja in Nigeria set for completion in 2020. Mövenpick Hotels & Resorts currently operates a 260-key property in Ghana – Mövenpick Ambassador Hotel Accra.
Andrew Langdon, Chief Development Officer, Mövenpick Hotels & Resorts said "As construction of Mövenpick Hotel Abidjan commences, we take another step closer to realizing our ambitious expansion plans for the Sub-Saharan region,"
"Opening a modern lifestyle hotel in Côte d'Ivoire's banking and commercial center is a strategic move that not only capitalizes on Abidjan's growing prominence as a major business hub but reestablishes Mövenpick Hotels & Resorts' presence in West Africa. This is crucial to our development strategy as we actively seek opportunities to grow and become a leading hospitality company in the region."
When completed in 2020, the property will feature an all-day dining restaurant; a lounge/bar; an Executive Club Lounge; a state-of-the-art fitness center and contemporary meeting space.
"The hotel will be well placed to facilitate trade missions, government-related business and general commercial trade," said Langdon.
Mövenpick Hotel Abidjan's ownership is a joint venture between Société Abidjanese de Promotion Industrielles et Immobilières (SAPRIM), a private company that owns the office complex and mall adjacent to the property, and renowned construction firm Bouygues Batiment International.
Posted on : 12 Oct,2017
Buildmart is Africa's leading directory and market news website for the building and construction industry | Kenya | Tanzania | Rwanda | Ethiopia