Ethiopia- Gambella Airport Introduces A New US$1.3m Tower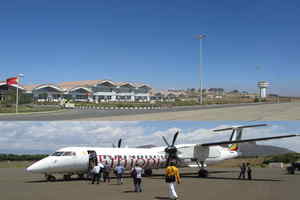 A US$1.3m advanced Air Traffic Control (ATC) tower that directs aircrafts during takeoff and landing has been installed by Ethiopia's Gambella Airport.
The tower was constructed by the Ethiopian Civil Aviation Authority (ECAA) with the aim of expediting the movement of the increasing traffic jams at the Airport.
To make the tower fully operational, the procurement for navigation, communications, and surveillance systems was done overseas. However, according to Promotion and Public Relations, Animut Lemma, Director at the Authority, the equipment will support seamless global air traffic management system.
"Due to security issues of the Airlines hindering easy and flexible access to the construction site the project experienced a lot of delays," said Habtamu Ashine, Aerodrome Engineering Section Supervisor, during the handover ceremony of the project, held on September 20, 2017.
Along with Gambella, the construction of control towers at 11 airports completion, the construction of six more towers is underway and eight towers Gode, Bale Robe, Kombolcha, Assosa, Semera, Jinka, Shire Endasillassie, and Hawassa to commence in the future.
The airport terminal is located 711Km away from the Capital, Gambella Regional State has an estimated area of 29,782sqm. Having a total population of 307,096, of which 25pc are urban dwellers. The number of flights to Gambella airport has increased from three times a week to twice a day.
The airport demanded a smooth, safe, and comfortable system to adequately accommodate the need, according to Tewodros Dawit, the CEO of the Ethiopian Airport Enterprise (EAE).
During the past five years, the number of domestic flights has increased by 30pc.
This is due to the economic growth of the country as well as the investment growth in the region; which has finally instigated the
installation of new technologies at the terminals, according to Tewodros.
Gambella and the other terminals are administered by the Enterprise; it recently merged with Ethiopian Airlines. Since its establishment in 2003, the Enterprise has built 14 airports out of the existing 20. The remaining were constructed before its inception.
Now, it is undertaking an expansion project at Bole International Airport at the cost of US $342. It has also completed the construction of Shire and Jinka airport runways with a cost of 971mn Br recently.
Posted on : 09 Oct,2017
Buildmart is Africa's leading directory and market news website for the building and construction industry | Kenya | Tanzania | Rwanda | Ethiopia