Ethio-Djibouti The Flagship Project Begins Full Ride Trials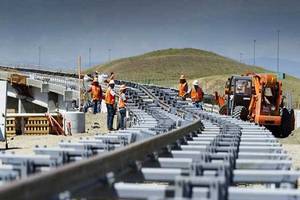 According to Dereje Tefera, Ethiopian Railways Corporation (ERC) Communication Services Head, any railway project has to undergo various checking and trails. Also, certification is required by an external institution before it begins full operation.
China Civil Engineering Construction Corporation (CCECC) and China Railway Engineering Corporation (CREC) are in charge of managing the overall activities of the project for the coming six years.
Within the six years, the companies will also train the Ethiopian and Djibouti personnel on the operation, maintenance, and the likes. However, the railway construction helps in Ethiopia's commitment to fighting poverty.
Moreover, the progress made so far regarding the full rail ride is promising and the two sisterly nations are inspecting the trial ride and other related matters. The Corporation also focused on ensuring safety as the Ethio-Djibouti railway is a flagship project.
The project is also the first of its kind in the Sub-Sharan Africa.
US$3.4bn was the cost of the railway project with Ethiopia and Djibouti contributing 70 percent and 30 percent respectively. Ethio-Djibouti railway project stretches from Sebeta to Dewele – 656km- and from Dewle to Negad via Dorale, over 100km.
Ethio-Djibouti Railway also known as Ethio-Djibouti Railways, is both a railway company and a railway based in the Horn of Africa. Parts of the railway still exist in 2017. However, inside Africa, the project serves as a clear economic purpose over decades easing the transport of goods between almost inaccessible Ethiopia and the ocean and clearly replaced camel caravans as the transport means of choice.
Posted on : 06 Oct,2017
Buildmart is Africa's leading directory and market news website for the building and construction industry | Kenya | Tanzania | Rwanda | Ethiopia