Kfir Rusin- High Standards Have Been Set For Real Estate Developments Across Sub-Saharan Africa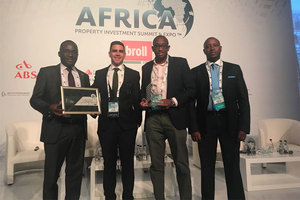 Property developers, owners and suppliers got the opportunity to showcase their best projects and services from across sub-Saharan Africa at the Africa Property Investment (API) Awards.
The aim of the event which was held at the API Summit and Expo 2017 was to recognize innovation and outstanding achievement across the entire property industry.
Kigali Heights and Garden City were among winners at the Africa Property Investment Awards 2017 in Johannesburg.
The winning projects came from Rwanda, Kenya, Nigeria, Mozambique, Namibia and Ghana.
Managing Director of API Events, Kfir Rusin, said, "We congratulate all the winners and finalists as well as their respective project teams.
He said, "They have set an exceptionally high standard for real estate developments across sub-Saharan Africa and continue to shape the African built environment landscape."
"API Events is proud to be associated with these companies and wishes to help in further pushing the boundaries of excellence for African property development," he said.
Best Mixed-Use Development – Winner: Kigali Heights, Rwanda – Kigali Heights Development Company (Developer), Fusion Capital (Financier-Kigali Heights), Century Real Estate (Property Managers – Kigali Heights)
The Kigali Heights Development comprises of a world class office block with 12 750 sqm of Grade A office space, 5 250 sqm of prime retail space and 300 parking bays.
The 18 000 sqm development was designed with flexibility and energy efficiency at its core.
Kigali Heights features green building solutions such as solar powered lighting that augments the national grid and an in-house sewerage treatment plant both firsts for any commercial building in Rwanda.
Best Green Building in Sub Saharan Africa – Garden City, Kenya – Actis (Developer)
Garden City is East Africa's first integrated residential, retail and office development. Set on 32 acres the development includes an approximately 45 000m2 shopping mall, over 200 residential apartments and 20 000m2 built-to-suit office space.
Project by Actis in accordance with the Kenyan government's Vision 2030 the project has sustainability at its core and features the largest solar paneled carport in Africa on the mall's rooftop parking area. The developer's vision was to create a "live-work-play" environment to cater to the community in the North-East suburbs of Nairobi.
Best Housing Development : Karibu Homes, Kenya – Karibu Homes (Developer)
Project Description: Karibu Homes is a leading Kenyan developer of mass market affordable housing with 1000 homes currently under development.
The developer has successfully finished the first community of affordable housing in Nairobi having already completed Phase 1 of the project with 285 homes built and sold.
Work on Phase 2 has started with 500 homes under construction.
Since its initiation the development has had a significant impact on the affordable housing ecosystem in general with regards to both public and private institutions actively seeking to study something from the development through site visits, panel discussions and scholarships.
Posted on : 21 Sep,2017
Buildmart is Africa's leading directory and market news website for the building and construction industry | Kenya | Tanzania | Rwanda | Ethiopia