Remodeling Of Rwandas Water Network Set To Begin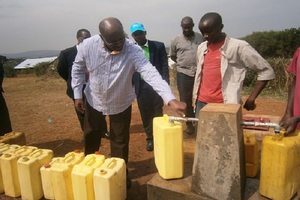 As part of the efforts to address the persistent water shortages in different suburbs of the capital, the water network project has come into play. According to CEO of Water and Sanitation Corporation (WASAC), Aimé Muzola there is a project estimated to take 3 years to upgrade and rehabilitate water networks in Kigali.
He said that there are at the moment different projects for the purpose of increasing water volume. This will also go hand in hand with upgrading and expanding water networks. Muzola further stated that the first phase will cover 502 kilometers. In the meantime, they are also working on setting up new networks in a project. This will extend to over 1,000 which is projected to be completed in 3 years.
The WASAC CEO explained that procurement process for the project has started. Nzove Water Treatment Plant is projected to add 15,000 cubic metres of water to Kigali city in the next two months. Currently Kigali gets 90,000 cubic meters per day. However, this is a shortfall of 30,000 cubic metres to the required amount.
Muzola added that upgrading, rehabilitating and expanding water networks will continue in six secondary cities apart from Kigali. The project extension to secondary cities could also see the rehabilitation of about 393 (38%) dysfunctional water supply systems. According to WASAC this will require US $14.4m.
The Minister for Infrastructure James Musoni said that more projects are in the pipeline to curtail water shortage in the country. He also called for coordination between branches and the utility headquarters for efficiency.
Posted on : 18 Sep,2017
Buildmart is Africa's leading directory and market news website for the building and construction industry | Kenya | Tanzania | Rwanda | Ethiopia