Three 100mw Solar Power Plants are to be set up by a Zimbabwe Power company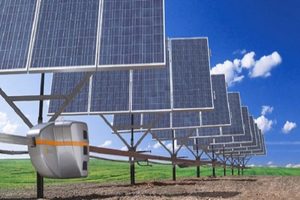 Three solar power plants have been applied to be set up in the country by the Zimbabwe Power Company (ZPC). This is purely a move to improve the supply of electricity. Each power plant with 100MW capacity, will be in Gwanda, Matobo and Munyati.
"From a given notice, the Zimbabwe Energy Regulatory Authority is in receipt of an application from the Zimbabwe Power Company. They will construct, own, operate and maintain the proposed 100 MW Insukamini Solar Photovoltaic Power Plant at Valindre Farm of Matobo district in Matabeleland South Province." the Zimbabwe Energy Regulatory Authority (ZERA) said.
Lately, ZPC sought permission from the State Procurement Board to cancel a $113 million contract for repowering of Munyati Power Station awarded in 2015 to an Indian firm Jaguar Overseas Limited, citing delays in securing funding for the project.
Extension of Kariba dam
At the moment, a multi-million extension of Kariba Power Station has been undertaken by ZPC. This is by a further 300MW from the current capacity of 750MW. Chinese firm Sino Hydro is undertaking the expansion work, with $533 million funding provided by China.
Zimbabwe's electricity demand stands at 1,400MW. The actual generation is around 980MW. The imports from South Africa and Mozambique add to the remaining balance.
They also plan to upgrade their oldest coal fired power plant, Hwange; in a $1.3 billion project. In conclusion, this project is expected to increase generation capacity by 600MW. Conspicuously, the project has stalled as talks for a $1.1 billion loan from China Exim Bank have dragged on since 2014 and missed several restarts.
Posted on : 15 Sep,2017
Buildmart is Africa's leading directory and market news website for the building and construction industry | Kenya | Tanzania | Rwanda | Ethiopia