Construction of the Murtala Muhammed Airport Road in Nigeria begins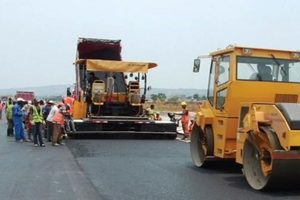 Construction of the Murtala Muhammed Airport Road in Lagos, Nigeria has began. The Federal Airports Authority of Nigeria (FAAN) has cautioned passengers to brace up for inconveniences due to the ongoing work.
However, the road expansion project is being supervised by the state government. As the 15 months project takes course, alternate routes to access the international terminal are ready.
Reconstruction and expansion
The project calls for the reconstruction and expansion of the existing carriage to a three-lane expressway. On both directions, a two-service lane is to be constructed. The project also includes construction of a ramp bridge to provide a detour from the Ajao Estate corridor as well as a flyover at NAHCO/Toll Gate and some drainage works.
However, other construction works include the removal of the existing pedestrian bridge at the estate and construction of same bridges at Ajao Estate and NAHCO/Hajj Camp. On the highway slip road are to be construction to provide access to the estate as well as construction of lay-bys and installation of streetlight, among others.
According to Henrietta Yakubu, The General Manager, Corporate Affairs, FAAN the security agencies is mobilizing other traffic officers to check traffic during the period.
"The Authority, in conjunction with the Lagos State government, has put in place necessary measures to mitigate the effect of the construction on road users while the project lasts," said Henrietta Yakubu.
Furthermore, two flyovers are to be built as promised by the state government. It will be constructed along with other facilities on the Oshodi axis of the highway.
Governor Akinwunmi Ambode, represented by his Commissioner for Waterfront Infrastructure Development, Adebowale Akinsanya, dropped the hint a stakeholders' meeting. He urged cooperation for the speedy completion of the projects.
According to Governor Ambode his administration commit to transforming the highway to a world-class facility befitting of an international airport. Besides, the reconstruction is part of the inclusive governance agenda of his government.
The project approval
The Governor also thanked President Muhammadu Buhari and the Ministry of Works for the approval. Governor Ambode also applauded FAAN for their cooperation.
When the road is completed, it will enhance vehicular movement and improve the image of the country.
Measures are in place to mitigate the challenges road users and residents might encounter during the reconstruction.
Posted on : 15 Sep,2017
Buildmart is Africa's leading directory and market news website for the building and construction industry | Kenya | Tanzania | Rwanda | Ethiopia