Boost In Zimbabwe's Power Grid By The Extention Of Kariba South Project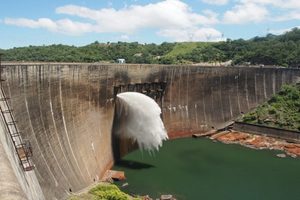 The energy and power development Minister of Zimbabwe, Dr Samuel Undenge, has said that work on the Kariba South Extension Project is progressing well.
"We are happy with the progress and we know that the Kariba South Extension Project is now 92% complete. Everything is on course for its commissioning on 24 December, 2017," Undenge said.
"We appreciate the work and effort that is the contractor is doing (Sinohydro) and Zesa management," he further added.
The hydro plant was modernized in 1997. It was then followed by an up-rating process in 2003. The increase in its generation capacity to 750MW was the result of the upgrades.
Kariba South Extension Project challenges
The minister said that the initial challenges of foreign currency to pay suppliers were being overcome with the involvement of the Reserve Bank of Zimbabwe.
On completion, two new units are going to add a further 300MW to the national grid. Zimbabwe struggles with a daily deficit of between 300MW and 600MW.
More than 300MW of power is majorly imports to offset the supply deficit. Furthermore, there are many more projects underway to boost supply.
Projects in the pipeline
Undenge revealed that tendering for the Batoka Gorge South Bank, projected to add a further 1,400MW to the national grid, will be out soon.
"In terms of the Batoka Gorge project there are feasibility studies that have recently been complete. Tenders will then follow so that the process kicks off," he said.
There are many more projects in the pipeline which include the Devil's Gorge (1,000MW), Hwange Western Area (1,200MW), Tokwe-Mukosi Hydro (15MW) and Gairezi Small Hydro (30MW).
The minister of finance and economic development, Patrick Chinamasa, is currently working on incentives. This aims at making the investment into the energy sector attractive.
"Chinamasa is trying to come up with a regime of incentives so that we make investment into the energy sector by private players more attractive. We need them to develop what government is doing," minister Undenge said.
Posted on : 15 Sep,2017
Buildmart is Africa's leading directory and market news website for the building and construction industry | Kenya | Tanzania | Rwanda | Ethiopia