Lagos has unveiled its first Off-Grid Solar House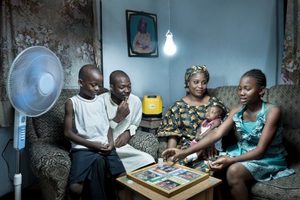 For the last one year the five-bedroom bungalow located in Ejigbo, a suburb of Lagos is outside the national grid. The Edifice was built and managed by Concept Technologies. According to the Managing Director, Tokunbo Tonade, The need to use renewable energy was to solve the epileptic power supply in Nigeria which brought to him the idea of the off-grid solar house
A 5-bedroom bungalow is powered by 12.6KW solar Off-grid system. The system runs 94 % on the power of the sun and 6% on diesel during cloudy weather.
According to Tonade, the solar system generates 12.6KW of electricity per hour. To accomplish this it uses 63 units of 200W solar modules, three 60AMPS MPPT controllers, and 3.2KW inverters. in addition 24 units of 200AMPD deep cycle batteries are included. "I have been trying to advocate for renewable energy because it has a lot of benefits.
With generator, you use some amount of money to install the generator, buy diesel and fuel it yearly. On the other hand when we add everything up, they are higher than the amount used to install solar energy," he added.
An alternative
He further said in the long-run, every year a bank spends US $140,000 to power each of its branches. In 10 years this accumulates to US$1.4m spent on a branch alone. Tonade says his alternative has 25 years warranty at US$336,000.
Chairmen of Ejigbo, and Isolo LCDA, Shamsudeen Olaleye, and Bello Oloyede called on the councils to embrace the initiatve in their quest to reduce money spent on powering generating sets. Olaleye further applauded the management of Concept Technologies for their efforts at putting the council on the world map.
Posted on : 15 Sep,2017
Buildmart is Africa's leading directory and market news website for the building and construction industry | Kenya | Tanzania | Rwanda | Ethiopia