South African Defense Company to modernize its production facilities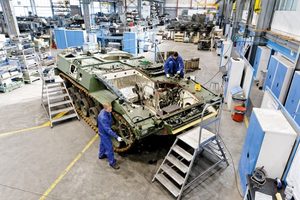 South African Defense Company- Rheinmetall Denel Munition (RDM) is set to invest US$ 42m in modernizing its production facilities. The firm intends to introduce state-of-the-art processes to the latest standards and increase its capacity.
The CEO Norbert Schulze confirmed the reports and said that they are likely to recruit 200 workers so as to increase the capacity.
The company which is 51%-owned by Germany's Rheinmetall AG and 49% by South Africa's Denel SOC, is also active in the automotive components sector. Both companies are defense industrial groups although Rheinmetall is a private sector enterprise and Denel has State ownership.
"We are a South African company, despite our financial ownership by a German group," he points out.
The production facilities
He further said that they have facilities on four sites in South Africa, which they are constantly upgrading and modernizing. These investments remain in South Africa and nobody can move them out of the country.
RDM specializes in the development, design and manufacture of large- and medium-calibre ammunition families. It is a world leader in the field of artillery, mortar and infantry systems as well as plant engineering.
Rheinmetall Defense's business is mainly focuses on NATO countries. RDM's focus is on Asia, the Middle East, South America, South Africa and African countries. Rheinmetall and its South African unit are able to draw on an expanded product portfolio when serving their respective core markets.
It will take three years for the company to make the investments of the major initiative.
Posted on : 07 Sep,2017
Buildmart is Africa's leading directory and market news website for the building and construction industry | Kenya | Tanzania | Rwanda | Ethiopia