The Julius Nyerere International Airport (JNIA) in Tanzania is 64% complete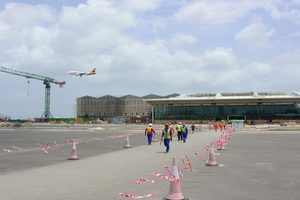 The Julius Nyerere International Airport (JNIA) in Tanzania is 64% complete. Prof. Makame Mbarawa, Minister for Works, Transport and Communications announced the project progress during a tour at the Airport.
According to the Minister, the three operations at Julius Nyerere International Airport (JNIA) are to commence in October this year. However, the next stage of the contract takes effect upon project completion. Additionally, the government of Tanzania owes no debt to the contractor as all payments have been remitted.
Project operation
According to Minister Mbarawa, the government wants everything to come to completion as planned. The terminal can accommodate over 20 airbuses at once, with 22 inside the air-bridge and others outside. Besides, full operations are due in October, next year.
Apparently, the presence of many airbuses will depend on demand. Prediction are that over eight million passengers are to use the terminal on annual basis, almost four times of the current amount. Apart from taxes and foreign currencies to the country, Tanzanians will also benefit from direct and indirect jobs.
The project cost
However, the current passengers' wing (Terminal Two) has a lot of challenges, and that is why the government has to spend a fortune on the Terminal Three construction. Currently, no specific figures are revealed yet on the terminal construction spending, given that payments are made through installments. Speculations are that the terminal construction project has cost not less than US$ 249.3mn.
Following the good progress of construction activities, the government is looking forward to issuing tenders to cargo companies in a bid to meet the passenger requirements. At the moment there are only two companies, namely Swiss-Port and Nas Dar Airco. However, following the passenger increase, many more companies are on demand.
Julius Nyerere International Airport is the international airport of Dar es Salaam, the largest city in Tanzania. The airport location is about 12km southwest of the city centre.
Posted on : 05 Sep,2017
Buildmart is Africa's leading directory and market news website for the building and construction industry | Kenya | Tanzania | Rwanda | Ethiopia