Nigerias National Housing Scheme begins in 33 states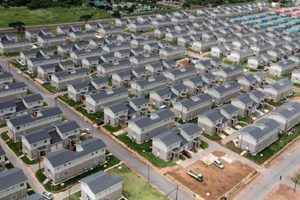 The Federal Government of Nigeria recently commenced construction of houses in 33 states for workers under its National Housing Scheme. This is according to the Minister of Power, Works and Housing, Mr Babatunde Fashola.
Fashola made this known at the sixth meeting of the National Council on Lands, Housing and Urban Development. The ministry was in charge of organizing the meeting held last week in Abuja. The pilot scheme engaged 653 contractors to deliver 2,736 units as far as the housing program is concerned.
Availability of land in the 33 states facilitated further the construction of the houses. Fashola also noted that during the 2016 council meeting, the council resolved to facilitate the use of exchange of letters. These serve as use for the Transfer of Title to land when states were transferring land to the Federal Government.
Employment Opportunities
Fashola further advised on the importance of looking at short, medium and intermediate streams of opportunities for employment and productivity. This is all the while in commitment towards the national policy of delivering affordable housing. Job opportunities are created as a total of 54,680 people got employed in the process. He said this was consistent with one of the pillars of the Economic Theory and Growth.
On procurement, Fashola said he directed the ministry's staff to review the procurement requirements and guidelines. This is in consultation with its legal department with a view to ensure opened opportunities for participation.
According to him, this is in fulfillment of the objectives of the Council's theme. It is to build for inclusion, for growth and for prosperity. FCT Minister Mallam Muhammad Bello said in order to tackle housing challenges the FCT Administration initiated Housing and Urban Management Policy and Programs.
Posted on : 31 Aug,2017
Buildmart is Africa's leading directory and market news website for the building and construction industry | Kenya | Tanzania | Rwanda | Ethiopia