Nigeria to work on delivery cost reduction in affordable housing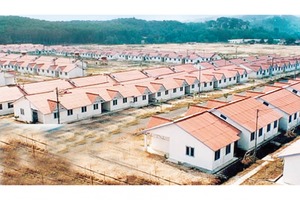 Aspects such as cost of housing finance, imported building materials, land use and tenure system highly influence affordable housing costs. Furthermore, lack of basic infrastructure and other amenities also worsens the situation for those who want to buy or build.
However, there are ways and means by which this delivery cost could be taken down in reduction to as much as 50%. This is according to Federal Mortgage Bank of Nigeria (FMBN) MD/CEO Ahmed Dangiwa.
Dangiwa believes that this will only come to pass in the intervention of the Federal Government. This, according to him is through unlocking land at the right location and value engineering and industrial approaches to reduce construction costs. The government could also increase operations and maintenance efficiency.
Housing finance
Housing finance remains a major challenge in housing delivery in Nigeria and Dangiwa sees its future in a market-driven structure. The government thus needs to create an enabling environment. Thia will deal with mortgage affordability as the greatest challenge for a market-driven housing finance.
He explained that affordability remains a key issue due to lack of demand. The government is addressing the issue through putting forward initiatives. Some of these include the Central Bank of Nigeria (CBN)'s recapitalization of Primary Mortgage Banks (PMBs).
There is also the National Housing Finance Program (NHFP), a joint effort among Federal Ministry of Finance, CBN and the World Bank. The implementation of the program included the establishment of the Nigerian Mortgage Refinance Company (NMRC).
According to Dangiwa there are some requirements for achieving a sustainable market-driven housing finance apart from having strong players and a bigger market. He added that efforts should be made at creating an asset-backed capital market and appetite for investments.
Posted on : 28 Aug,2017
Buildmart is Africa's leading directory and market news website for the building and construction industry | Kenya | Tanzania | Rwanda | Ethiopia