Egypt set to construct a meat processing plant in Tanzania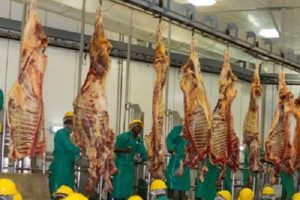 Egypt has confirmed that it will be constructing a mega meat processing plant in Tanzania. This will provide a relief to livestock keepers since they will be able to sell their livestock at better prices.
Egyptian President Abdel Fattah el-Sisi confirmed the news after having bilateral talks with President Magufuli of Tanzania while on a visit to Dar es Salaam.
Vast meat market
Egypt has a vast meat market and this will eventually provide market to the Tanzanian livestock keepers. On the other hand Tanzania has one of the largest livestock populations in Africa with 13.5 million herds of cattle.
Additionally, it has 5.5 million goats, 3.6 million sheep, 0.4 million pigs and 23.2 million chickens. This is according to statistics by the Ministry of Agriculture, Livestock and Fisheries.
Meat processing in Tanzania
The livestock sector in Tanzania undoubtedly is of greater importance in many respects. It plays roles from creating jobs, increasing hard currency inflow to technology and knowledge transfer and various incentives are attached to elicit those involved in the sector.
Apart from setting the meat processing plant, Egypt has also expressed interest in investing in among other things; education, health, defense and security, tourism and agriculture.
"The tourism sector is also among the sectors which we have agreed to improve by boosting the number of tourists. Egypt attracts over 10 million tourists annually while Tanzania is attracting less than 2 million only," said Magufuli,
He concluded that the two countries have mutually agreed to promote tourism through their national airlines.
Potential investments in the livestock sector
There are potential investments and trade opportunities in the livestock sector in Tanzania. The Government has taken initiatives in facilitating investment undertakings in various sectors of the economy. Conducive investment policies and regulatory frameworks are in place.
Private sector are encouraged to proactively get engaged either individually, through joint ventures and through Public – Private Partnership (PPP) in order to capture available opportunities.
Posted on : 28 Aug,2017
Buildmart is Africa's leading directory and market news website for the building and construction industry | Kenya | Tanzania | Rwanda | Ethiopia