US$ 10m shopping mall to be constructed in Zimbabwe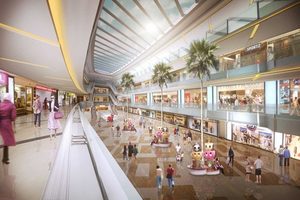 A US$ 10m shopping mall will be constructed in Victoria Falls, Zimbabwe before the end of this year. This is according to Zimre Property Investment (ZPI) chief executive officer Mr. Edson Muvingi; the company selected to develop the mega project. He further pointed out that the approval processes are at an advanced stage including the Environmental Impact
Sawanga shopping mall
The development dubbed Sawanga shopping mall will constitute of offices, internet cafes, bookshops, banks, boutiques, hair salons, restaurants, motor spares shops, medical centre, theatres, cultural centre and gymnasium, among other things.
An elaborate sewage and water reticulation system will be put in place with access roads being constructed for easy movement. The mall will also offer affordable venues for local and international conferences.
"We have completed land acquisition and are in the final stages of the design, taking into account the needs of prospective tenants. We are also working on EIA report submission including stakeholder consultations which is ongoing," said Mr Muvingi.
Victoria Falls Municipality
However, they are still waiting for a comment from the Victoria Falls Municipality to inform if they are in a capacity to manage the refuse and sewer generated from the complex.
This initiative is anticipated to provide much needed formal and affordable businesses for the communities in Victoria Falls. There are several conferences that take place in the region in concurrence with Zambia which attracts many delegates.
Nature of the development
The property developer's environmental consultancy firm, Environmental Guardians Services' senior consultant Mr Michael Montana confirmed that the nature of the development moreover reduce negative environmental impacts and promote sustainability as the proposed plan blends in with the existing infrastructure and services.
Additionally, it will promote urban restructuring, sustainable communities, and environmental and economic sustainability.
Zimre Property Investment, which is both into residential and commercial property development, seeks to tap into the anticipated business boom on the back of an influx of tourists in the resort town.
Posted on : 23 Aug,2017
Buildmart is Africa's leading directory and market news website for the building and construction industry | Kenya | Tanzania | Rwanda | Ethiopia