Nigeria projected to surpass Africas renewable energy target by 2020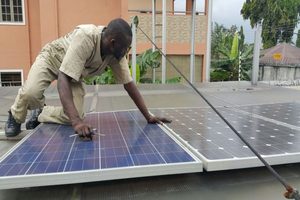 Nigeria power experts believe Nigeria is likely to pass Africa's renewable energy target of 2020. This is following surveys showing the adoption of solar and inverter technologies by Nigerians has increased.
Electricity frustrations have gradually driven more young and middle aged professionals to solar energy. This is according to the Managing Director Cloud Energy Photoelectric Limited Theophilus Nweke. He adds that it is as a result of necessity as well as lack of word from the government. "This is similar to what happened with portable water where every other home owns a treated borehole," he said.
Global warming
Nweke said increasing the supply of renewable energy would allow the country to replace carbon-intensive energy sources and reduce global warming emissions. In Nigeria, the renewable energy target was accepted with doubts given the nation's failures to meet all previous set targets. However, the country looks set to spring a surprise according to a survey that led to the launch of Cloud Energy Photoelectric's Cloud Energy Solar Access Program.
Nweke said the Cloud Energy Solar Access Program supports this trend by removing high costs. This is with up to 12-month payment plan for Solar and Inverter bundles designed to create easier and effective access to solar energy.
The Solar Access Program is also designed to educate the public on the benefits of using Solar. This is with a view to quickening the pace of the nation towards the attainment of the renewable energy goals of 2020. The program contributes to the fight against climate change and would create thousands of jobs in the clean energy sector.
A telecoms expert, Kehinde Aluko, said human activity is overloading the atmosphere with carbon dioxide, and other global warming emissions. These trap heat, steadily driving up the planet's temperature. As a result there are significant and harmful impacts on health, environment, and climate. Aluko noted that generating electricity from renewable energy rather than fossil fuels offers significant public health benefits.
Posted on : 23 Aug,2017
Buildmart is Africa's leading directory and market news website for the building and construction industry | Kenya | Tanzania | Rwanda | Ethiopia