The East Road Bridge in South Africa re-opens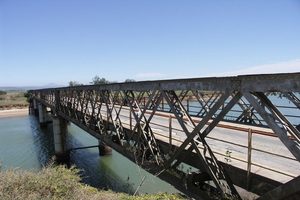 The East Road Bridge along the N12 freeway near Eldorado Park is now open. The local businesses along the N12 freeway can now breathe a sigh of relief after the Gauteng Department for Roads and Transport repaired the East Road Bridge at a cost of US$750,852.
Effects of the closure
Initially, the closure of the bridge negatively affected the businesses in the area. Due to the closure of the East Road Bridge, traffic had to be diverted to other routes which are costly and time consuming.
The 60-year-old bridge sustained damages when a truck carrying a load exceeding the permissible height restrictions hit its top structure. The damage led to closure of the bridge.
The damaged bridge posed serious risk to motorists and pedestrians, thus the cause of its closure.
According to Gauteng MEC for Roads and Transport, Ismail Vadi, the bridge damage is another example of how overloading of freight trucks and disregard for height restrictions continue to cause untold damage to road infrastructure.
However, motorists are urged especially drivers and owners linked to the freight truck industry, to respect the rules of the road at all times. The heavy trucks not only damage road infrastructure but pose a serious risk to other road users.
Gauteng MEC for Roads and Transport has a responsibility to improve mobility and accessibility in Gauteng. The department also develops transport and socio-economic infrastructure that helps residents to participate meaningfully in economic and social activities.
The Department's vision is to develop an integrated, sustainable infrastructure that promotes people-centred, innovative, developmental public works; plus an accessible, safe a​nd affordable movement of people, goods and services.
The department staff and contractors are approachable, receptive, open and are quick to respond to needs of residents and clients as well as their responsibilities. The department is also answerable to clients and citizens of Gauteng about the service delivery activities.
Posted on : 17 Aug,2017
Buildmart is Africa's leading directory and market news website for the building and construction industry | Kenya | Tanzania | Rwanda | Ethiopia