South African Housing supply remains a moving target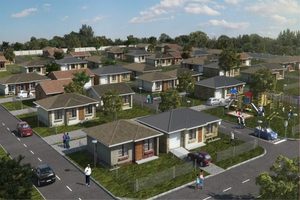 South African cities are struggling to match housing availability to the pace of urbanization. This is because of the many South Africans and foreign migrants who continuously place further pressure on housing supply. Presently the country is already backlogged owing to a reduction in household sizes.
Despite the delivery of 4.5m houses to date, the Department of Human Settlements (DHS) still faces a significant backlog. Moreover, 30% of urban dwellers across South Africa still live in in informal settlements.
Another 1.05m people will migrate into South Africa's economic powerhouse from 2016 to 2021. This adds to the province's current 14.7m population. Statistician General Dr. Pali Lehohla said Gauteng remains the largest net receiver of the migration streams.
This makes housing with its attached basic services of electricity, particularly in light of shrinking households, more expensive.
Population increase
Lehohla highlighted a population growth of 1.6%, offset by a household growth of 3.2%. This is owing to the shrinking size of general households over the years. The changing household formation further weigh on cities' ability to reduce an ever-widening housing deficiency.
While household sizes of two to four made up the largest percentage of the household count at 61%, single-person households are on the rise, reaching 17%. Single-person households also made up 38% of informal dwelling inhabitants.
In addition, the number of people residing in formal dwellings increased from 8m five years ago to 13.2m last year. Further, the number of people in informal dwellings increased from 1.4m to 2.3m during the same period. According to Lehohla, high household costs are attributed to the fragmentation state of South Africa's towns and cities.
Posted on : 17 Aug,2017
Buildmart is Africa's leading directory and market news website for the building and construction industry | Kenya | Tanzania | Rwanda | Ethiopia