Experts want partnership with cooperatives in housing delivery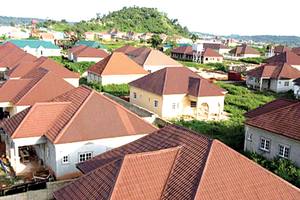 To address the nation's housing needs, real estate experts have called on state governors and other relevant government agencies to partner with cooperative societies for the provision of affordable mass housing.
Leading the call at the unveiling of housing types for Perfection Investors Cooperative Society Limited, an independent membership real estate club in Lagos, former publicity secretary of the Nigerian Institution of Estate Surveyors and Valuers, Meckson Okoro, said "Government should work in tandem with cooperative societies because their activities impact the society".
Okoro who was chairman of the occasion said the call became necessary since there are no mortgage institutions to finance real estate.According to him, any investment in real estate being one of the basic needs of life is a stock of value that appreciates with time.
While citing corruption, monetization policy of government as some factors affecting real estate development in the nation, Okoro advised people to join real estate cooperatives to secure their future to own houses and land.
He also extolled the cooperative for coming out with the house types, which include a two– three, bedroom terrace Bungalow, three- bedroom terrace duplex, block of three bedroom flats as well as block of 12 in one mini flats in Ibeju Lekki.For the guest lecturer and Managing Director of Realty Point Limited, Mr. Debo Adejana , investment into real estate was a gold mine being neglected by Nigerians due to ignorance.
Adejana said that areas that have developed to become city centres were once remote areas people ran away from.He advised that investments into real estate should not be delayed as according to him experience had shown that procrastination took away opportunities for people to either be land or house owners.
"Don't get trapped in the Nigerian real estate dilemma where the trap is on not being able to afford what one wants and not wanting what he can afford."Buy land, invest in real estate before you wait, don't wait to invest in real estate because prices would never go low," he said.
According to him, Ibeju Lekki in Lagos is the fastest growing construction hub in Africa today because people are building massively in the area and it is expected that by 2020 the hub will generate 50,000 jobs.
Adejana explained that Ibeju Lekki had easy access because it had airport, Free Trade Zone and seaport as some ongoing projects that will open the area rapidly.
Earlier, President, Perfection Real Estate Investors Cooperative Society Limited, Mr Niyi Adeleye, regretted that the economic situation and some policies of government had depleted purchasing power in real estate.He stressed that available data shows that about two per cent on Nigerians were investing in real estate, describing the situation as worrisome in view of the 17 million housing deficit in the nation.
"This also means that even when we talk about home ownership for the Nigerian, we are still very far behind," he said.Adeleye said that the cooperative society was inaugurated in 2012 to bridge the gap and give more Nigerians the opportunity to join the club to make small contributions towards home and land ownership.
He said that Nigeria was projected to have the third largest population in the world by 2050 and as such the need for people to invest in real estate to avoid being caught in the trap of non availability of space in the future.
Posted on : 14 Aug,2017
Buildmart is Africa's leading directory and market news website for the building and construction industry | Kenya | Tanzania | Rwanda | Ethiopia