Governments newest office building on track for 5-Star Green Star SA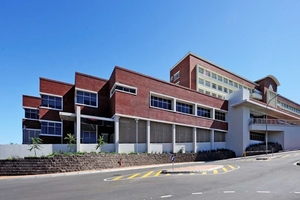 Designed to achieve the illustrious 5-Star Green Star SA rating for its sustainability, the Green Building in Bellville, has been constructed using many effective design techniques.
"Our natural clay face brick product has a number of ecologically sound properties that make it an excellent choice for environmentally sustainable projects," said Christie van Niekerk, Manager of Corobrik Western Cape.
"The brick offers superior thermal efficiency which requires less artificial tempera - ture regulation and the inert qualities assure low-environmental impacts. Added to this is the brick's incredible durability meaning it requires no future maintenance, making it the perfect solution for a project such as this."
Commissioned by the Western Cape Government, Department of Transport and Public Works, the 6 615 m2 office building will be occupied by administrative components of the Department of Health. Aveng Grinaker-LTA were the main contractors on this project with AGAMA Energy on site as the sustainability consultants.
"The building is designed to achieve a 5-Star Green Star rating, making it among the first government-owned buildings to achieve this status," explained Faizel Jacobs, one of two directors of Jacobs Parker Architects, along with Waheed Parker.
"This was achieved through a number of passive design principles such as optimised orientation, appropriately proportioned glazing, filtering of natural daylight, and well-considered acoustic design. The building also recycles all storm and waste water in a fully organic recycling plant, and uses this re-cycled water at least twice."
"The Karl Bremer Hospital site comprises several buildings, all of which are built using red face brick. The decision was taken to continue with this aesthetic, as the Green Building was meant to tie in to the existing context," continued Jacobs.
All materials were sourced from local suppliers which reduced the 'embodied energy' of the project, and provided support for the local economy. With face brick being a labourintensive construction method, the brick allowed for increased employment and skills' training opportunities, facilitated through a mentorship programme.
This holistic construction strategy led to this being the first building in Africa to achieve a socio-economic impact certification as part of its overall 5-Star Green Star SA Office v1 rating.
Jacobs said that this demonstrated, that the design, construction and operations of the office block move beyond simple environmental sustainability, addressing socio-economic sustainability which was also imperative.
The Green Building includes office accommodation, a 90-seater auditorium, conference facilities, library, support and service spaces. Creative design has allowed for flexible buildings so that rooms can be created and adapted as user requirements change.
Posted on : 14 Aug,2017
Buildmart is Africa's leading directory and market news website for the building and construction industry | Kenya | Tanzania | Rwanda | Ethiopia