Mortgage firms to improve access to affordable housing in Nigeria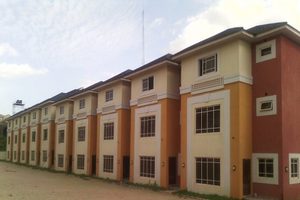 In a bid to improve access to quality affordable housing market, Nigeria Mortgage Refinance Company (NMRC) and Alpha Mead Development Company (AMDC) has signed a Memorandum of Understanding (MoU).
The MoU will allow the two to work together on housing finance, training, research, advisory and project structuring to increase the stock of affordable housing in the country. It will also provide relevant technical support to Alpha Mead. This is in relation to the residential Real Estate market in Nigeria.
Furthermore, the partnership between both parties will now make it easier and faster for customers pre-qualified by AMDC. They will access mortgage from the member financial institutions of the NMRC. Managing Director/CEO of NMRC Prof. Charles Inyangete described the MoU as a remarkable move.
He said that NMRC decided to work with Alpha Mead because of its innovative approach to increase affordable housing in Nigeria. Prof. Inyagete also mentioned the Facilities Management expertise of the company to maintain the projects after construction. He expressed their belief in the model. According to him this will allow more transaction in the housing development value chain. It will also feed their member institutions with more projects to finance.
NMRC's Innovation
Group Managing Director of Alpha Mead Engr. Femi Akintunde, expressed delight at the partnership. He described the partnership is a serious demonstration of NMRC's commitment to reduce the nation's increasing housing deficit. He also termed it an encouraging recognition of Alpha Mead's unique approach to delivering quality and affordable housing to Nigerians.
According to him, what they bring to the market are the possibilities of addressing the challenges of affordability and quality. This is due to the fact that traditional building methods cannot close Nigerian housing gap. More so in the face of the challenges that face the affordable housing value chain.
Engr. Akintunde noted that the current structure of the market makes males it hard for people in the middle-income bracket to own homes because of the high entry barrier. He also pointed to the challenges of lack of skilled artisans, the high cost of building materials and lack of standardized building.
Posted on : 08 Aug,2017
Buildmart is Africa's leading directory and market news website for the building and construction industry | Kenya | Tanzania | Rwanda | Ethiopia