The highest skyscraper in Africa will be built in Kenya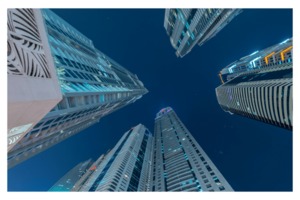 According to the project, two glass-facade towers will rise above Nairobi. It will be the highest building in Africa – 300 meters. The current leader, 223-meter Carlton Centre, is located in Johannesburg.
The cost of the project is above 200 million dollars, reports Tuko News. White Lotus Group and Hass Petroleum are the key investors from Dubai. China State Construction Engineering Corporation was awarded the building contract. It is one of the most reputable construction companies in the world. They have already completed such massive projects as the National Aquatics
Centre (Beijing) and the African Union headquarters (Ethiopia).
In particular, there will be 255-room Hilton Hotel in one of the towers, as well as business and leisure facilities, elite residences, and a helipad on the roof of the tallest building.
The managing director of the project and the chairman of Hass Petroleum, Abdinassir Hassan told that Nairobi was an important hub for East and Central Africa, and it was an ideal place for such a construction. "We do not need to build anywhere else," resumed the managing director.
Moreover, the economy of Kenya has been growing recently. The World Bank statistics show that in 2016, GDP of the country grew by 5.9%. Nairobi property market has also been increasing. Therefore, the new twin towers will immediately be in high demand.
Posted on : 08 Aug,2017
Buildmart is Africa's leading directory and market news website for the building and construction industry | Kenya | Tanzania | Rwanda | Ethiopia