The Minister of Electricity Inaugurates Egypts Largest Bank-Owned Solar Station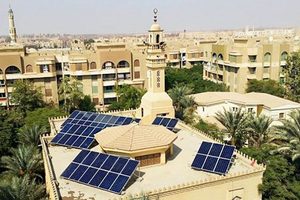 Egypt has officially opened a solar collecting power station. Mohammed Shaker, the minister of electricity and renewable energy did this on the roof of Crédit Agricole Egypt head office.The $167,693 station generates an average of 960kW/hour everyday.
A report from the local media house showed that the plant will be placed above the administrative building of Credit Agricole Egypt in the Fifth Settlement. So, it aims at explaining the bank's use of electricity and renewable energy.
Egyptian energy sector
He highlighted the positive growth and development of the electricity sector, associating it to support of partners including the Ministry of Petroleum.
Additionally, he comments about the power plant at Credit Agricole Egypt. According to him, reaching 950MW in a 45,000 square meter building is great. He said they should be proud of it.
The chairperson and managing director of Credit Agricole Egypt Francois Edward Drayon paid homage to the firm.
Again, he pointed out the great expertness of the Credit Agricole Group in the field of eco-friendly projects.
"It succeeded in adopting a sustainable and nature-friendly system that began with the early stages of establishing the main administrative building," he said.
The bank's headquarters in the Fifth Settlement is one of the first green smart buildings in Egypt. It is also the highest operating building in the country, and the best in the country's energy efficiency.
Meanwhile, the Leadership in Energy and Environmental Design (LEED) have reportedly certified the project. This is the first significant certification for nature-friendly buildings in Egypt and North Africa.
Consequently, Francois put stress on the bank's commitment to reducing energy use while embracing renewable energy.
Posted on : 04 Aug,2017
Buildmart is Africa's leading directory and market news website for the building and construction industry | Kenya | Tanzania | Rwanda | Ethiopia