Rehabilitation work on the P41/1 road in South Africa completed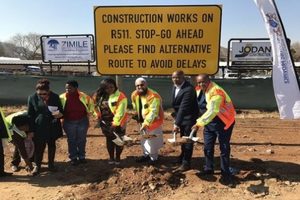 Rehabilitation work on the P41/1 road near Nigel has been completed. The US$1.2mn project has restored the road for a further 15 years.
The rehabilitation works
The rehabilitation works included resurfacing, repairing of edge breaks, clearing drainage systems and installing new road markings and safety measures.
Ismail Vadi, Gauteng MEC for Roads and Transport commissioned the project. According to Vadi, the upgrade has improved the link between Nigel/Springs and the N3.
The project has also provided a direct access to the newly-developed Gibela rail manufacturing factory at Dunnotar. The factory is scheduled to be opened later this year.
The road critical role
The road serviced the coal haulage sector in Gauteng. However, the road is expected to play a critical role in servicing the rail manufacturing industry. The project is in line with the Gauteng provincial government's reindustrialisation strategy.
The cost-effective facility
Thanks to the road upgrade, road users will travel in safety and comfort. The cost-effective facility will also ease movement, particularly to the Gibela rain manufacturing factory.
The local black-owned enterprises have also been empowered through the road project. Additionally, the project has been completed on time and on budget.
The 4.77km road has stretched from Nigel to Gauteng Springs. The road project, forms part of the provincial Coal Haulage Strategy, included the repairing and resurfacing of the portion of Road P41/1 between Heidelberg and Springs.
Traffic improvement
The rehabilitated road is expected to improve traffic capacity as well as the paving integrity of the road for a period of 15 years.
According to Ismail Vadi, a section of the road was rehabilitated some year ago. The current project will upgrade the remaining 12km of the road network linking it to the neighbouring province.
However, the road improvements will serve to stimulate the economic activities and trigger economic development between Gauteng and the North West province. It will as well serve as a catalyst to equalise the distribution of wealth in the region as this is an important freight route.
Posted on : 03 Aug,2017
Buildmart is Africa's leading directory and market news website for the building and construction industry | Kenya | Tanzania | Rwanda | Ethiopia