Kaffu Bullom Mini-Grid in Sierra Leone Launched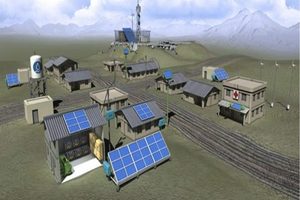 Sierra Leone President,Dr Ernest Bai Koroma, as part of efforts to increase energy access to rural communities, launched the Kaffu Bullom Mini-Grid at Conakry Dee, Port Loko district.
"The Mini-Grid is part of the Rural Renewable Energy Project funded by DFID with the objective to provide energy to 54 community health centres across the country," the president said.
The president emphasized that energy being an essential component to national development, has inspired the ruling government to exert more efforts in the sector. This has seen provision of energy not only in the cities but also in the district headquarter towns and now cascading it to rural communities. "No country will develop if it is not energy sufficient," he stressed, adding that the project has considerably helped pupils with ease to study under solar panels in their homes at night.
President Koroma also thanked the Department for International Development for funding the project and United Nations Office for Project Services for implementation. He urged the community people to take full possession of the project for it sustainability and success.
The head of DFID, Sally Taylors stressed on the importance of electricity to health facilities. She assured Sierra Leone of UK's continued support for developments that are in sync with the president's Agenda for Prosperity. "The project will make a real difference by providing reliable power to operate medical equipment, provide crucial lighting for night time medical services and refrigerate vaccines".
She called upon all stakeholders in the community to actively participate in the success of the project. "The project, will create business employment opportunities and provide adequate security for the facilities. This will be for the benefit of the Sierra Leonean people, in whose name this Rural Renewable Energy Project is being implemented."
Henry Macauley, the Minister of Energy Ambassador said, "government is aiming at increasing energy to 1000MW to make the country energy sufficient". He informed that the energy sector provided 259M KW/hour in 2015, 302M KW/hour in 2016 and 180MKW/hour within the period of January to June 2017.
"The cost of electricity is smaller than the cost of darkness", he said. He also noted that "whilst we measure the cost of electricity in $ per kwh, the cost of darkness is measured in human development units; in the cost of proper healthcare and sanitation, to education, to safe drinking water, to agriculture and food security, to small and medium business growth, to large industrial growth, to jobs, among others".
Posted on : 03 Aug,2017
Buildmart is Africa's leading directory and market news website for the building and construction industry | Kenya | Tanzania | Rwanda | Ethiopia