Ethiopia-Djibouti rail project to start commercial operations in October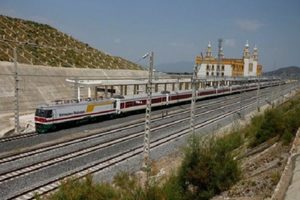 The Ethiopia to Djibouti electrified rail project is scheduled to commence commercial operations in October this year. Ethiopia Minister of Transport Ahmed Shide, announced.
The rail construction
The 756km rail project was constructed by two Chinese companies. The first 320 km of the rail project from Sebeta to Mieso was executed by the China Rail Engineering Corporation while the remaining 436 km from Mieso to Djibouti port section was constructed by China Railway Group.
The project has showcased China's support to Ethiopia's efforts of transform its economy through infrastructural development. Currently, the Ethiopia is conducting test runs on the railway, as well as finalizing the preparations to form a joint venture company with Djibouti to manage the project.
"We hope the rail project will facilitate expansion of industrial manufacturing and boost Ethiopia's competitiveness by significantly cutting time needed for Ethiopia's exports to reach Djibouti port," said Minister Ahmed Shide.
Transportation of goods and services
Before the project, transportation of goods and services for Ethiopia to Djibouti port took 2 days. With the completed electrified rail line project, goods and services will reach Djibouti port for Ethiopia in 10 hours.
With an average speed of 120 km per hour passengers will have an opportunity to reach the two destinations in few hours. A single coach can accommodate 118 passengers at a go.
The technical and legal frameworks
According to the transport ministry, the technical and legal frameworks of the Ethiopia-Djibouti railway will be concluded within two months time. The project lines connection will be done within the 2 months period.
Rail transport in Africa
In most of the Sub-Saharan African (SSA) countries railways have played, throughout history, a key part in the economic development maintaining a dominant role in transporting freight and passengers at low costs.
The last 50 years, the road transport in the region as throughout the world has expanded rapidly due to the aggressive development of the automobile industry. African governments have invested mainly in road infrastructure improvement, neglecting railways. The liberalization in road transport and the slow response of railways to adapt to the new market conditions resulted in dramatic traffic decline in rail transport.
Posted on : 01 Aug,2017
Buildmart is Africa's leading directory and market news website for the building and construction industry | Kenya | Tanzania | Rwanda | Ethiopia