British Agency to support mega water project in S. Sudan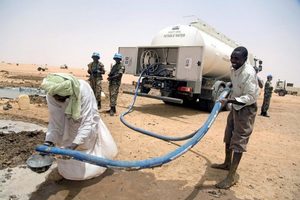 The Government of North Darfur announced the signing of an agreement with the British Development Agency to commence in October. Under the said agreement, the Agency will be tasked with the implementation of a $5.24m project to connect and support the drinking water of El Fasher, the capital of North Darfur. The projects are set to begin in August this year.
During a meeting with the governor of North Darfur in El Fasher, British Development Agency Representative Clare Barney said that the project to deliver water to El Fasher from Shagra basin which will increase water productivity to 30% with an increase of 6,000 cubic metres.
She also added that while this is being done submersible pumps will be treated to increase pumping from 16 hours to 20 hours.
Also read:Sudan's Wadi El Kou Basin project to begin phase two
The project will test the internal network of El Fasher established by the Darfur Regional Authority to determine the quality and carrying out of the maintenance works and the water plan.
Committee
Earlier on last week, the Legislative Council of North Darfur instructed the formation of a committee to follow-up the important and urgent projects, especially water and electricity problems in the state capital of El Fasher.
The Minister of Urban Planning Kamal El Sayed Abushouk, said that the resolution of El Fasher's water and electricity problem is greater than the capacity of the Ministry and the state. According to him, the formation of a support committee to follow up the issue will bring the much needed help.
The Minister revealed that his ministry has reached agreement with AU's United Nations Mission in Darfur (UNAMID) to provide large pumps to raise the efficiency of the wells for water production. This is in addition to another agreement with the two organizations to add 20 tanks in El Fasher and 120 'kiosks' for rehabilitation and increase of the carrier lines.
Posted on : 01 Aug,2017
Buildmart is Africa's leading directory and market news website for the building and construction industry | Kenya | Tanzania | Rwanda | Ethiopia