Gibela says first SA-made train to be delivered by the end of 2018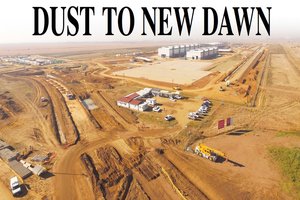 Production of the first car-body shell of the first car of the first train is imminent, he adds. Train production will start while the plant is still under construction.
Construction at the Dunnottar plant, on the far East Rand, is 50% complete, notes Gibela construction director Vuyiswa Tlomatsane.
The main buildings are being constructed by a joint venture between two black economic empowerment (BEE) entities, Trencon Construction and Black Jills. The rail infrastructure will be built by Saflog Consulting Services, also a black-owned company.
The 29 ha factory is located on a 78 ha site leased to Gibela.
The site will feature a car-body-shell building, a fitting and warehouse building, a filming (branding) building, a fitting and coupling building, a central administration complex, a training centre and a 1.25 km dynamic test track.
Around 1 500 people will be employed at the plant.
At peak, in 2020, 62 trains will be built at Dunnottar each year.
The majority shareholder in Gibela is Alstom Southern Africa (61%), while BEE partners New Africa Rail (NAR) and Ubumbano Rail hold 9% and 30% respectively.
Gibela has been appointed to deliver 600 new X'Ttrapolis Mega commuter trains to PRASA in a deal valued at R51-billion. Local content is promised to be between 65% and 70% by volume.
The first 20 trains were built by Gibela's majority shareholder, Alstom Transport, at the Lapa manufacturing plant, in Brazil. The last of the trains arrived in South Africa in July.
Gibela has also secured a maintenance, spares supply and technical support contract from PRASA for a period of 19 years, in a deal worth roughly R10-billion.
PLANT COMPLETION
The Dunnottar plant is expected to be completed early in 2018.
Plant completion, as well as the handover of the first train, has been delayed, owing to a number of reasons.
An initial timeline required Gibela to deliver the first South African-made train by June 2017.
However, Gibela received the plant site later than expected from PRASA and the Ekurhuleni metropolitan municipality.
Community protests, demanding increased local involvement in the project, as well as inclement weather during the past summer, resulted in an additional 1.5-month delay.
Tlomatsane says a revised procurement programme, following community protests, has seen 47 small, medium-sized and microenterprises (SMMEs) receive work to the value of R219-million in the construction programme, with 32 of these local SMMEs.
Locals from the surrounding areas have also secured 716 construction jobs to date, out of a total of 822 jobs.
Today, one or two problems remain.
Improved road infrastructure, potable water and sewer connections to the site are yet to be established. In addition, bulk power supply is only scheduled to be connected in February, which means that Gibela will have to rely on temporary power solutions when manufacturing begins. "We hope to have full power when we start ramping up production," says Granger.
Gibela also has to train a number of new employees to work in a high-pressure manufacturing environment, as 62 trains a year is quite a demanding schedule.
Around 206 employees have already received training at Alstom facilities around the world.
"We have challenges, certainly, but we will deliver," says Granger. "Full production will be reached 24 months after we start to produce the first South African-made train."
SUPPLIER PARK
Construction has not started on the 27 ha supplier park, envisaged to be built next to the train plant.
This park is to house parts suppliers to the train production line.
"The supplier park is not part of our commitment to PRASA," says Granger. "It is an idea we put on the table in order to complete what should be a railway industrial complex in Dunnottar."
The idea would, most likely, need to be executed by PRASA or another State body.
Granger says he understands the financial support for the development of the park has not been finalised.
"In order to create an attractive location for tenants, a supplier park needs an attractive financial model. It seems commercial financial institutions want returns that would be difficult to realise. This means that development finance institutions may hold the key to unlocking [development of] the supplier park."
Granger says it has been agreed with PRASA that Ubumbano would develop the supplier park, once financing has been secured.
"We can continue without a supplier park, but it would be a pity to do so."
TRAIN PRODUCTION
Gibela production site director Bruce Devega hails from the automotive industry. He previously worked at General Motors South Africa and Nissan South Africa and is familiar with the assembly line concept.
"We have come up with around 19 process innovations to enable the production figure of 62 trains a year. That is one-and-a-half trains a week. By mid-2019 we need to get to two cars a day."
One such innovation is Gibela's draw bench – the machine used to shape the metal that forms part of the train floor.
Already installed at the factory site in Dunnottar, it is the most modern of its kind currently available on the global rail market.
The draw bench is capable of pulling 22-m-long side sill profiles, a length unique to the rail manufacturing industry.
Other innovations include six-axis robots to work in otherwise hard-to-reach welding places, as well as rotating fixtures for improved ergonomics and increased production speed.
The robots are similar to the ones employed in bodyshops at vehicle manufacturing plants.
PRASA PROBES
"I am happy to say that this contract has no hidden aspects, no skeletons and no corruption," says Granger.
"The process deployed to award this contract was very robust and well managed, comparable with any similar contract in the rest of the world.
"The main streams of the process were delegated to independent professionals."
Granger says he is "more than confident" that no corruption allegations will be levelled at Alstom or Gibela at any point, especially since investigations by the Public Protector and the Auditor-General have revealed no foul play.
PRASA has been embroiled in controversy in recent years, with allegations of corruption and mismanagement levelled against the State entity, particularly with regard to the procurement of 70 Afro 4 000 locomotives (from Swifambo Holdings), found to be too tall for the South African rail network.
Gibela has, however, seen a share sale that has raised a few eyebrows.
Thalente Myeni, Monde Africa and Sesinyi Seopela were NAR's local shareholders when the Gibela consortium won the PRASA contract in 2012. However, they sold their shares before a single new train was built.
Myeni is SAA chairperson Dudu Myeni's son.
JSE-listed tech giant EOH has since paid R16.5-million for 100% of the shares in NAR.
Posted on : 28 Jul,2017
Buildmart is Africa's leading directory and market news website for the building and construction industry | Kenya | Tanzania | Rwanda | Ethiopia