Chinese construction projects creates jobs for Ugandan youths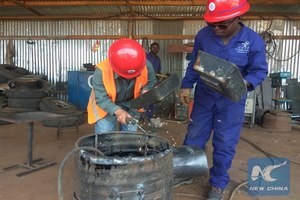 Chinese construction projects in Uganda are emerging to be a major source of employment in the country. One such project is the construction of an Expressway in Uganda that links the country's capital Kampala to Entebbe International Airport. The project is being spearheaded by China Communications Construction Company (CCCC), employing over 2,000 youths.
In northern Uganda, one of the Chinese construction firms are constructing a $1.4b underground hydro power plant, the very first of its kind in Africa. At this project ranging from unskilled, semi-skilled and skilled levels, over 4,000 youths have been employed.
Another hydro-power construction project funded by the Chinese is also ongoing in the central part of Uganda providing hundreds of jobs to the youth.
Many youths acknowledge that even after the projects are long gone, they will have gained skills to sustain their lives and families.
Most of these youths have at some point dropped out of school for lack of fees but with these projects they hope to go back to school after saving enough money.
World Bank figures puts Uganda as one of the youngest and most rapidly growing populations in the world. About 53% of Uganda's population is younger than 15 years, which is above Sub-Saharan Africa's average of 43.2%.
Every year, about 500,000 people are expected to enter the labor market. With this, the number of new entrants into the labor force will be growing and will be younger in the next few years. At the moment, 64% of the unemployed are aged 24 and below.
According to experts, Uganda can take advantage of the increasing population by equipping youths with vocational skills. They also argue that increasing Chinese investment in this East African country is partly solving the persistent unemployment problem.
From the Chinese Enterprises Chamber of Commerce in Uganda, figures indicate that over 40,000 jobs have been created so far by the Chinese enterprises in the country
Posted on : 26 Jul,2017
Buildmart is Africa's leading directory and market news website for the building and construction industry | Kenya | Tanzania | Rwanda | Ethiopia