Construction on course for Tazara Flyover in Tanzania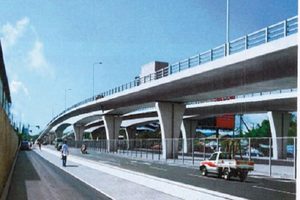 Construction work is underway for the much awaited first flyover in Tanzania at Tazara by the junction of Nelson Mandela Expressway and Nyerere Road in Dar es Salaam. The project is at 45.3%
Inspecting the project site for the second time this year, Works, Transport and Communications Minister, Prof Makame Mbarawa, expressed his gratitude on seeing that the project is progressing well and it is in line to the set target of 45.4% indicated in the timeframe.
Prof. Mbarawa further stated that the progress is an important milestone in the timely completion of the project by end of October 2018.
"When I visited the site in February, this year, the construction work was at 25 per cent and up to this juncture another 20% has also been completed," said Prof. Mbarawa. "The contractor has done a commendable job from the quality of the set up structures and seeing through that there are no accidents recorded," he added.
However, the contractors are urged to speed up in order to reduce the duration of the project.
On completion the flyover will offset the prevailing costs and time caused by current traffic jams experienced by road users and in turn increases productivity, which means a boost to the country's economy.
"Our construction company Sumitomo Mitsui in collaboration with JICA and the Tanzania National Roads Agency (TANROADS) are going to work as scheduled and finish this work perfectly," said Masaharu Yoshida, Japanese Ambassador to Tanzania.
Ambassador Yoshida also assured the Minister of timely completion of the project while observing the set international standards as per the agreement
Besides, implementation of the project has not experienced accidents, an extraordinary observation. Funded by the Japanese government through a grant aid and partly the government of Tanzania, the project is expected to cost about US$965.9m upon completion.
Posted on : 20 Jul,2017
Buildmart is Africa's leading directory and market news website for the building and construction industry | Kenya | Tanzania | Rwanda | Ethiopia