Bringing affordable housing to more South Africans why partnerships are key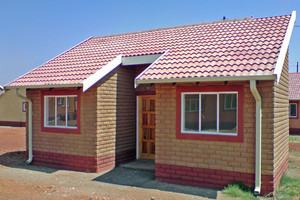 Thina, what is the Gauteng Partnership Fund and what is Futuregrowth's involvement with it?
Sure, so Gareth the Gauteng Partnership Fund, or as we call it the GPF for short, is essentially a fund that was established by the Department of Human Settlements. Their mandate is to grant loans to entrepreneurial property investors and the main thing is that these property developers are building housing for the affordable housing sector.
Is it basically like a public-private partnership type setup?
Yes, that's exactly what it is. Part of this arrangement between ourselves and the GPF is that we're working together in providing the property developers with funding. This then helps them to actually build or refurbish the properties that they'll then, in the end, offer out as rental stock to the market. The way that our arrangements are set up is that as Futuregrowth, we've committed to R150m and this is over a two-year period. At the end of 2015 is when the agreements were signed between us, but then what happened during this period, where we can actually advance the funds to the borrowers, is that we look at each developer on a deal by deal basis.
What is the state of affordable housing like in Gauteng? Obviously it's the densest province, right?
Yes, true. When you say affordable housing, we're predominantly talking about households with incomes up to about R18 000, and what we look at is a payment for income ratio. That means the rental that the household will be paying towards the housing as a portion of their income is up to 30%. The whole key is that it needs to be affordable enough for that household. And we're looking at good quality, safe accommodation and predominantly in places that are close to people's places of work, because, also, what's happening currently in this economic climate, is that consumers are coming under more pressure. So, affordable accommodation options are really key to help people's standards of living as well.
Many of these projects then would be based, I presume, in the Johannesburg CBD for example then?
Yes, in the Joburg CBD and surrounding areas. We've done some projects that aren't in the Joburg CBD as such, but that are still close to a CBD. An example, which I was going to go into later is the development that we did with a borrower Ace Pallets. Now that is in Vanderbijlpark, but it's right close to the CBD of Vanderbijlpark.
Can unpack that Ace Pallets development for us.
This is a developer that we, as Futuregrowth, hadn't dealt with before and they were obviously introduced to us by the GPF. They were asking for funding for an 84 unit affordable rental housing development in Vanderbijlpark as I mentioned. The units were all two-bed and the one bath. Now I think the appeal of Vanderbijlpark is that as part of the Vaal Triangle, it's quite a major industrial region and that area has an established road network, there is public transport systems and it's really close to people's places of work. Also, it was a very good project. I wish I could show you a picture of it actually. Within about ten, eleven months they were done with construction from the ground up and they'd received their occupation certificates from council.
Do you find that these projects then in general get developed quite quickly? Can they get developed quickly and built out in many places at the same time?
Yes, I suppose it's also a matter of size. This is an 84 unit development, it's an experienced developer, so I think that also boded well for them because they also do other kinds of services in the built environment industry. They do project management engineering services and so on. I think it's a mixture of size and the entrepreneur or the property developer themselves and also the professional team that they have around them.
You've mentioned the Ace Pallets project – which is basically within the Vanderbijlpark CBD and many of these other projects which are also within many CBDs. How do they benefit those CBDs? Do they help to rejuvenate a lot of those CBDs which perhaps have seen a lot of wear and tear over the last few decades?
I'd say they're in established areas because you know, what's key if you're accommodating this affordable sectors of market, you want an established public transport system around it. You're dealing with families that have incomes of up to R18 000 so that family maybe can't afford a car or whatever the case may be. So, you want at least an area with a developed transport system and then the developers go in there and either refurbish – say an old office block to a residential unit – or they're also just building from the ground up. I think it does help in the appeal of the area because you have this new accommodation, good quality and with quality players who are in there for the long run.
As Futuregrowth, are you seeing many entrepreneurs and startups that are trying to enter this space? Is there a lot of interest in this space?
Yes, I think another key thing as part of our partnership with the GPF is that perhaps we wouldn't have looked at funding some of these developments on our own as Futuregrowth. The GPF does a lot of the support work, so to speak, during the construction with their monitoring progress and so on. Some of them are new players, but new players along with the GPF who, for instance, supplement some of the reporting and monitoring services.
For a partnership like this to be successful, does it always require a strong government intervention, like we see with the GPF?
I don't think necessarily, but this partnership with the GPF is great because it is their sole mandate to grant these loans to these property investors and their sole mandate is to provide housing. Doing something like this with them is an extreme benefit to us. They bring some expertise that we may not necessarily have in-house – for example, engineers, quantity surveyors and so on. Experts who, during the construction process, are really fundamental to the whole development.
What does the future of affordable housing in South Africa hold? How is it going to change over the next few decades?
Currently, urbanisation is still a real phenomenon in Gauteng. We see that in the rising population density in the smallest province in the country. People are still moving to the big city centres. I think also the fact that we're in uncertain times in terms of our economy might also put consumers under more pressure, which then raises that demand for affordable housing. Estimates that I've come across say that the housing backlog is as great as 850 000 units. We know the demand is there, it's a matter of getting the supply to catch up with that and I think that's really in the long term. It won't happen in two or three years.
Looking at the GPF as a kind of case study, would Futuregrowth get involved with similar projects in other provinces in South Africa perhaps?
Yes definitely. Some of the other companies which we've lent funds to are playing in KZN, in the Eastern Cape and the Western Cape. Actually, a good case in point is Ace Pallets. We were introduced to them through the GPF which mandates Gauteng specifically. However, they then approached us to fund another development in KZN and because it fell out of the GPF mandate in our agreement, it was actually fine for us to then go along with them on that project. Therefore, I think really those opportunities coming out as well, as a result of the kick-start we've had with our partnership with the GPF introducing us to these borrowers.
Thina, it's been a pleasure talking to you today and a very interesting discussion.
Thank you Gareth.
Posted on : 13 Jul,2017
Buildmart is Africa's leading directory and market news website for the building and construction industry | Kenya | Tanzania | Rwanda | Ethiopia