Affordable housing: Lafarge Africa targets 1 million Nigerians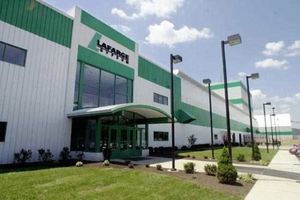 CONCERNED about housing deficit in Nigeria, coupled with astronomical growth in population, a foremost cement producer, Lafarge Africa Plc, a member of LafargeHolcim, has expanded its vision of bridging the housing gap by introducing an innovation that adjudged to be "first of its kind in the country".
Tagged "Build Easy, Lafarge Pragmatic Affordable Housing Solution ", the initiative is to make provision of affordable homes possible to every category of people across Nigeria.
The scheme, according to the promoter, stemmed from the fact that it's designed as the only home construction solution for low income earners, where those whose earnings is between N20,000-N30,000 per month can conveniently own their homes.
Speaking on the initiative at the media event that took place in Lagos last week, the Communication and Public Affairs Director of the Company, Folashade Ambrose-medebem, noted that Nigerians need to accelerate building of homes because the population of the country increases 2.8 per cent yearly and is projected to be the world's third largest by 2050.
"There is currently a housing deficit of 17 million in Nigeria, amidst an urbanization rate of 4.7 per cent, where Nigerians build just a paltry 500,000 homes yearly, but with pragmatic initiatives like our's, it's possible for 10million urban households to be able to afford the cheapest house built by a developer while 9million urban households can build incrementally.
Ambrose-Medebem stated that Easy Home is the first housing microfinance scheme in Nigeria, noting thar there have been 30,000 Easy Home beneficiaries in less than four years in 32 cities across Nigeria, with over €5m in funds has been obtained from the French Development Agency (AFD) and granted to Lift Above Poverty Organization (LAPO MFB).
She informed that Lafarge Africa and its microfinance partners have created a new market by offering a shorter tenor – a maximum of two years – at the lowest interest rates possible.
"Whereas, commercial banks have been offering typically high-end mortgages with longer tenors – a maximum of 20 years – and at a very high interest rates between 21percent – 25percent, but Lafarge Easy Home aims to reach one million", said MADAm
In his presentation, Mr. Aurélien 'Omowale' Boyer, explained that LafargeHolcim has launched the Affordable Housing program in 25 countries and five continents, with one in North America, three in South America, 13 in Africa, two in Europe, one in the Middle East and five in Asia
According to Boyer, the program helped 445,000 people in these 25 countries own a home and aims to reach 25 million people worldwide by 2030.
The affordable housing program opens up four types of business initiatives, namely: Self-builders/microfinance offers: Individual home builders who don't have access to finance.
He hinted that LafargeHolcim's solution including the provision of access to credits and offering technical assistance, with recognition that individuals need good quality and faster delivery of large scale projects, which is the bedrock of affordable housing delivery.
Moreover, Boyer stated that LafargeHolcim's solution is also including working with developers to improve construction quality and speed and also engages in distribution solutions in slums where individuals in congested, remote and rural areas need access to cement and concrete.
Another aspect of LafargeHolcim's solution is the distribution of cement and bagged concrete in small quantities and provide one-stop shop solutions.
Others are the earth and cement solutions, where individuals need an alternative to burnt clay bricks-a mix of cement and soil to produce non-burnt clay bricks, a typical housing types common in Northern Nigeria.
It was also stated that LafargeHolcim is working with international development finance institutions, UN agencies and inclusive business platforms on the global stage. The group also has partnerships with over 40 local micro-finance institutions (MFIs).
"LafargeHolcim defines Affordable Housing as 'Housing for people who do not have access by usual financial ways to decent housing'.
"This group aims to build new markets and improve housing conditions by assigning a dedicated team at group level to work with individual country teams (marketing and/or commercial) on local projects.
"The Affordable Housing program is a partnership between LafargeHolcim and the United Kingdom's Commonwealth Development Corporation (CDC Group) and Department for International Development (DFID)", said Boyer.
Posted on : 12 Jul,2017
Buildmart is Africa's leading directory and market news website for the building and construction industry | Kenya | Tanzania | Rwanda | Ethiopia