Phase 5 of Durban Northern Aqueduct Augmentation to start August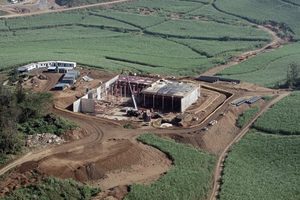 Construction on the fifth phase of Durban's Northern Aqueduct Augmentation project is set to begin in August according to eThekwini Water and Sanitation (EWS).
The phase comprises a new 1 200-mm-diameter continuously welded steel high-pressure pipeline, stretching from the Durban Heights reservoir in Reservoir Hills to Duffs road and an incrementally launched reinforced concrete bridge over the Umgeni River.
EWS head Ednick Msweli explained that although there was sufficient water to meet current needs, it could not be delivered efficiently to areas where it was needed most. This was worsened by ongoing development to the north of Durban.
Also read:Work on phase two of Lesotho Highlands Water Project to start
Phase 5 will benefit Newlands, KwaMashu, Phoenix, Cornubia, Waterloo, Umhlanga and Durban North and is expected to be completed by December 2019. Project manager Martin Bright highlighted that pipeline route investigations were complete, with engineering consultants Bosch Projects having also completed the detailed design stage.
In addition to the pipeline itself, a concrete pipe bridge will be built across the Umgeni river above the 1:100 year flood line. This will comprise a reinforced concrete box type bridge cross-section, which will be incrementally launched and supported on five solid concrete piers, and will cross the Umgeni River adjacent to the existing pipeline.
The new bridge will be built on a similar alignment to the previously collapsed steel suspension bridge and adjacent to the existing pipe bridge, about 9.6 km from the river mouth.
The level of the bridge deck has been based on a detailed hydrological flood assessment of the Umgeni river at a height that is above the regional maximum flood level.
A spokesperson for Bosch Projects said a river diversion works will be needed to cater for the river flow during piling and construction of the bridge substructure.
Bright said environmental rehabilitation will be required during and after construction, with EWS having appointed Gibb as the independent environmental consultants and impact assessors for this segment of the project.
Posted on : 11 Jul,2017
Buildmart is Africa's leading directory and market news website for the building and construction industry | Kenya | Tanzania | Rwanda | Ethiopia