Italian firm wins Sh40bn Konza city roads, sewerage contract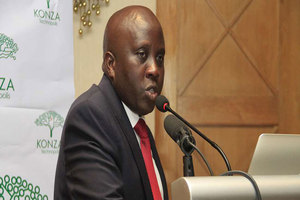 The planned construction of Kenya's first smart city, Konza, is expected to start in earnest this month following the award of a Sh40 billion infrastructure design and building contract to an Italian company.
Impresa Construzioni Guiseppe Maltauro (ICM) has been picked as the general contractor, who will design the infrastructure for phase one of the project as well as procure the necessary material and equipment.
Technically known as the Engineering, Procurement, Construction and Financing (EPCF) contractor, ICM will oversee the building of roads, water and sewerage infrastructure within the 400 acre phase one of Konza.
"Construction starts in July and ICM is expected to build horizontal infrastructure as well as all the basic amenities," said Konza Technopolis Development Authority (KOTDA) chief executive, John Tanui.
Tender documents from last year show that the EPCF contractor is supposed to oversee the building of 40 kilometres of landscaped streets. The company will also landscape the parks and set up water distribution, sewage collection and treatment facilities. ICM is also expected to build a water reclamation plant and a reservoir for the city.
Going for an Italian firm is unusual for the government, which has in recent years tended to opt for Chinese firms. ICM beat three other companies in the running for the project — Central Electrical International; China CAMC; and Zhongmei Gibb.
Konza is a key plank of Kenya's ambition to become East Africa's technology hub, but whose construction has delayed for years – partly due to lack of funding.
The renewed interest in the plan began last year in the wake of the South Korean government's Sh10 billion commitment to build a technology institute in the city.
Konza last week advertised for investors to bid for 150 parcels of land in the 400-acre phase one. Private investors will build schools, a petrol station, business process outsourcing (BPO) campuses and tech incubation hubs.
ICM is expected to build infrastructure that will facilitate the growth of these and other businesses. The Vicenza-based ICM group of companies was founded in 1922 and has maintained a strong interest in the construction of roads; hydraulic and infrastructural works as well as civil engineering.
It also has interests in mining and prefabrication.
Since 2016, ICM has been pursuing a strategy that will see it break with its family-run past and expand its operations beyond Italy.
The company last year said that it wanted to double its revenues by 2019 and is therefore investing abroad, including a billion-Euro deal with Qatar's Ministry of Defence. ICM did not respond to questions from the Business Daily.
Notices posted on its website show that the company had revenues of Sh56.8 billion (482 million euro) and 1,182 employees in 2015. Repubblica writes that Africa contributes to about two per cent of worth of tenders that ICM in which ICM is participating.
Posted on : 07 Jul,2017
Buildmart is Africa's leading directory and market news website for the building and construction industry | Kenya | Tanzania | Rwanda | Ethiopia