PEDIATRIC UNIT BUILT BY MADONNA IN MALAWI TO OPEN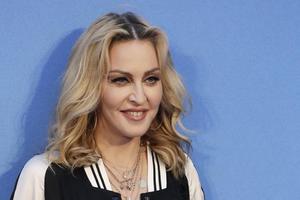 Madonna says the children's wing at a hospital in Malawi she has been building for two years completed its first surgery last week and will officially open July 11.
The Mercy James Institute for Pediatric Surgery and Intensive Care, located at the Queen Elizabeth Central Hospital in the city of Blantyre, had a soft opening and is the first of its kind in Malawi. It was built in collaboration with the Malawian Ministry of Health.
"When you look into the eyes of children in need, wherever they may be, a human being wants to do anything and everything they can to help, and on my first visit to Malawi, I made a commitment that I would do just that," Madonna said in a statement to The Associated Press.
"I'd like to thank everyone who has joined me on this unbelievable journey. What started out as a dream for Malawi and her children has become a reality, and we couldn't have done it without your support," she added.
Madonna adopted four children, David Banda, Mercy James, Stelle and Estere from Malawi. The children's wing was named after 11-year-old Mercy.
The pop star's charity, Raising Malawi, has built schools in Malawi and has funded the new pediatric unit, which began construction in 2015. Madonna, 58, visited the site last year.
The children's unit includes three operating rooms dedicated to children's surgery, a day clinic and a 45-bed ward. It will enable Queen Elizabeth hospital to double the number of surgeries for children and will provide critical pre-operative and post-operative care. It also includes a playroom, an outdoor play structure and inspirational murals curated by Madonna and other artists.
Sarah Ezzy, executive director of Raising Malawi, said the charity has been working with Queen Elizabeth hospital since 2008, helping the hospital's chief of pediatric surgery, Dr. Eric Borgstein, develop a training program.
"Pediatric intensive care is not something that has formally existed in Malawi. There hasn't been any training on it. It's not part of the curriculum in nursing school (or) medical school. People had to leave the country to train ... now people don't have to leave the country to train," Ezzy said in an interview.
"This facility is attached to the college of medicine and nursing so it will be a learning, teaching hospital."
Trevor Neilson, who works at Charity Network and has been advising Madonna's philanthropic efforts for the last six years, said "only someone like Madonna could do this. If you weren't Madonna, you would have given up a long time ago."
"Hundreds of thousands, if not millions of lives, will be saved by the hospital in the course of it operating," added Neilson, who has worked on charity projects with Bill Gates, former U.S. President Bill Clinton, Bono and others.
Madonna founded Raising Malawi in 2006 to address the poverty and hardship endured by Malawi's orphans and vulnerable children.
"Malawi has enriched my family more than I could have ever imagined. It's important for me to make sure all my children from the country maintain a strong connection to their birth nation, and equally important to show them that together as humans we have the power to change the world for the better," Madonna said.
Posted on : 07 Jul,2017
Buildmart is Africa's leading directory and market news website for the building and construction industry | Kenya | Tanzania | Rwanda | Ethiopia