Italian firm wins Konza city roads and sewerage tender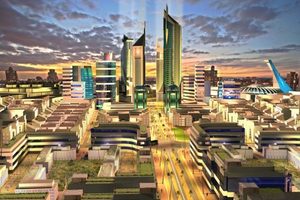 Italian firm Impresa Costruzioni Giuseppe Maltauro (ICM) has won the Konza city roads and sewerage tender; this is Kenya's first smart city.
The company was selected as the general contractor for the US$ 385m project and their priority will be to design the infrastructure for phase one of the project as well as procurement the necessary material and equipment.
Precisely known as the Engineering, Procurement, Construction and Financing (EPCF) contractor, in details, ICM will oversee the building of roads, water and sewerage infrastructure within the 400 acre phase one of Konza City.
Konza Technopolis Development Authority (KOTDA) chief executive, John Tanui confirmed the reports and said that construction works will commence in July this year.
"Construction starts in July and ICM is required to build horizontal infrastructure as well as all the basic amenities and build a water reclamation plant and a reservoir for the city," said Mr. Tanui.
The company will also landscape the parks and set up water distribution, sewage collection and treatment facilities.
ICM beat three other companies in the running for the project — Central Electrical International, China CAMC and Zhongmei Gibb.
ICM group of companies was founded in 1922 and has maintained a strong interest in the construction of roads; hydraulic and infrastructural works as well as civil engineering. It also has interests in mining and prefabrication.
The company has done other projects in Kenya including the rehabilitation of Maai Mahiu-Narok road, Webuye – Malaba road and Eldoret-Turbo-Webuye-road.
Konza is an important project for Kenya's ambition to become East Africa's technology hub, but whose construction has delayed for years to some extent due to lack of funding.
Posted on : 06 Jul,2017
Buildmart is Africa's leading directory and market news website for the building and construction industry | Kenya | Tanzania | Rwanda | Ethiopia