Construction outlook in South Africa is 'moderate'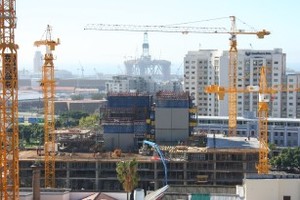 This is a result of economic slowdown, poor investor sentiment, high unemployment and a weak currency, which will weigh on construction spending.
The industry's output value in real terms is expected to rise at a compound annual growth rate (CAGR) of 1.57 per cent over the forecast period, down from 2.67 per cent during the review period.
Over the forecast period, industry growth is expected to be supported by investment in transport and logistics infrastructure, and energy construction projects, as well as the expansion of low-cost residential buildings.
Government efforts to balance supply and demand for social housing will drive demand for the construction of new residential units. Urbanization will continue to generate demand for residential and infrastructure development.
According to Stats SA, the total value of recorded building plans passed in the country grew by 6.0 per cent in nominal terms, increasing from ZAR101.4bn (US$7.9bn) in 2015 to ZAR107.5bn (US$7.3bn) in 2016. Moreover, the total value of buildings reported as complete grew by 8.3 per cent in nominal terms from ZAR56.7bn (US$4.4bn) in 2015 to ZAR61.4bn (US$4.2bn) in 2016.
In line with the national development plan and medium-term strategic framework, in its 2017 budget, the government announced plans to invest ZAR947.2 (US$62.2bn) on public-sector infrastructure over the Medium-Term Expenditure Framework (MTEF) period.
To meet the demand from the country's lower- and middle-income groups, the government is developing various affordable housing projects in South Africa; accordingly, the DHS is undertaking the Human Settlements Housing Program in the country. The program involves the construction of 1.6 mn affordable housing units by 2019.
The government is investing in road infrastructure projects to improve the country's transport network,. Accordingly, the government announced plans in its 2017 budget to spend ZAR135.5bn (US$8.9bn) on road infrastructure over the next three years.
The South African construction industry's growth will be driven by government plans to increase the share of renewable energy in terms of total installed electricity capacity, and encourage investment in renewable energy infrastructure. Under the updated Integrated Resource Plan (IRP), the government aims to increase the share of renewable energy in total installed electricity capacity from 16.2 per cent in 2016 to 22.3 per cent in 2020 and 46.3 per cent by 2030.
Posted on : 21 Jun,2017
Buildmart is Africa's leading directory and market news website for the building and construction industry | Kenya | Tanzania | Rwanda | Ethiopia