Crossing the continent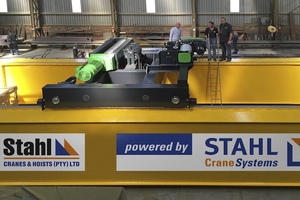 South Africa's Stahl Cranes & Hoists has completed the construction and installation of a two-beam bridge crane in Ghana, more than 10,000km away
Johannesburg-based Stahl Cranes & Hoists, partner of Stahl CraneSystems, manufactured the crane for Orsam Oil and Gas South Africa (Ortec). The 75t crane was then transported by land and sea to the General Electric project in Ghana.
Stahl CraneSystems produced an AS 7 wire rope hoist for the crane at its plant in Künzelsau, Germany, along with an SH wire rope hoist as an auxiliary hoist. These parts, along with crane components such as controls and drives, were also delivered to Johannesburg.
Stahl Cranes & Hoists then worked with engineers from Stahl CraneSystems to develop a unique beam construction comprising three individual parts, to allow it to be dismantled after construction in Johannesburg, packed into two containers each around 12m long, and transported 600km by land to Africa's largest container docks, in Durban.
From there, the crane was shipped by sea more than 9,000km to Ghana, where the Stahl Cranes & Hoists technical team, led by site quality manager Theunis van Schalkwyk, worked with the Ortec staff to re-assemble, install and commission the crane.
sia," said the manufacturer.
Since the entry into the Indonesian market, XCMG machines were used in the construction of local highways and railways as well as power, airport and commercial facilities.
These projects include the construction of the Indonesia-One high-rise building; 2×1050MW No. 7 independent power generation project in Java, the largest thermal power station in Indonesia; tunnel construction for Jatigede Dam Project; and Jakarta-Bandung Project.
ions, these technicians are now more prepared and confident to provide even better customer assistance, which adds value to our aftermarket products."
Manitowoc offered four training sessions in Mexico and five throughout Central America in 2016 for beginner and intermediate levels. The company's goal is to improve on that number by offering even more training opportunities in 2017.
Across the Americas, Manitowoc offers training sessions in three languages to meet local demand: English, Portuguese and Spanish.
Posted on : 21 Jun,2017
Buildmart is Africa's leading directory and market news website for the building and construction industry | Kenya | Tanzania | Rwanda | Ethiopia