Chinese companies powering Ethiopia ambition to become Africa manufacturing hub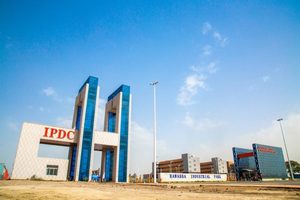 As part of its vision to become the manufacturing hub of Africa, Ethiopia will on Tuesday inaugurate the first phase of its flagship Chinese-built Hawassa Industrial Park.
The industrial park is said to be the first Sustainable Textile and Apparel Industrial park in the African continent with state-of-the-art infrastructural capacity.
It is one of the many projects in Ethiopia commissioned by Chinese companies that are engaged in various activities ranging from building industrial parks, setting up factories, constructing railway and other infrastructures.
Built by China Civil Engineering Corporation (CCECC), the Hawassa industrial park located in Hawassa city some 275 km south of the capital Addis Ababa was initially completed in a record time of nine months back in July 2016.
Arkebe Oqubay, Special Advisor to the Ethiopian Prime Minster, speaking in connection with the inaugural ceremony to be held on Tuesday, said that the park would be considered as a model for other industrial parks under construction in the east African country.
He said that the development of sustainable, world class specialized, export-driven and competitive industrial parks is the major target of Ethiopia so as to realize its vision towards economic development and become the manufacturing hub of the African continent.
In addition to the Hawassa industrial park, the east African country has further embarked on the development of similar other industrial zones in Kombolcha, Mekele, Kilinto, Bole Lemmi II, Dire Dawa and Adama among others, of which Mekele and Kombolcha industrial parks to be inaugurated soon.
The Ethiopian government has planned to construct 10 industrial parks across the country aiming at enhancing job opportunities, earning revenue and promoting technology transfer, while majority of the parks are under construction or constructed by Chinese companies.
CCECC, in addition to the Hawassa Industrial Park, is already constructing another industrial park in Adama city, the capital of Oromia regional state, located 99 km southeast of Addis Ababa.
The company has also recently signed a contract agreement to build industrial park in the resort city of Bahir Dar, some 552 km north of Ethiopian capital Addis Ababa, at a cost of 60 million dollars.
Li Wuliang, general manager of CCECC Ethiopia, during the signing ceremony this month, affirmed that the company will strive to finish the 75-hectare Bahir Dar industrial park, which is expected to host eight factory sheds and basic infrastructure utilities, within the agreed nine-month period.
Designed and being built by another Chinese company, China Communications Construction Company (CCCC), Arerti Industrial Park located some 140 km east of the capital city Addis Ababa, is another hope of Ethiopia in its quest to become Africa's manufacturing sector excellence.
Woody Lau, Business Manager at CCCC, has recently told Xinhua that Arerti Industrial Park is expected to employ about 400 persons when the first phase incorporating a ceramic plant is finished at a cost of tens of millions of U.S. dollars.
CCCC is not new to building projects that have had strategic changes to Ethiopia, with its trademark Addis Ababa-Adama expressway, Ethiopia's first toll road, inaugurated in April 2014.
Africa's second most populous nation, with a mostly young population of about 100 million, is presently betting on investments in industrial parks to meet the demands of job market and keep the nation stable and prosperous, while the contribution from Chinese companies is massive and highly visible across the country.
Posted on : 19 Jun,2017
Buildmart is Africa's leading directory and market news website for the building and construction industry | Kenya | Tanzania | Rwanda | Ethiopia