Aller Aqua Matches Rapid Expansion In Africa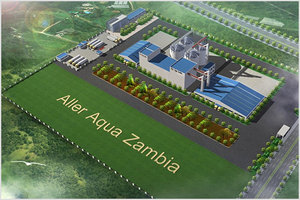 As a company focused on its customers, and one that is expanding in Africa, it was natural for Aller Aqua to support World Aquaculture 2017 the first time it takes place in Africa.
Since Aller Aqua was established, focus has been on the customers and what the company could do to help them achieve maximum output from their fish farms. Implementing costumer focus as one of the
company values has enabled Aller Aqua to achieve continued growth, first in Europe, then Asia and now Africa. World Aquaculture 2017 is sponsored by Aller Aqua, and puts a spotlight on Africa.
African focus
During recent years Aller Aqua has increased its focus on the African continent significantly by establishing local production and several additional sales companies. However, the company has been
delivering high quality extruded fish feed to Africa for more than a decade. African aquaculture is constantly growing and thus the need for product optimization is increased throughout the value
chain. Addressing the main challenges in the individual markets is fundamental in the company's strategy and business structure in Africa. The main challenges are reliable availability, economic
feed conversion rate, high and consistent quality, training and local presence.
In January 2016, in light of the increased activity in the African countries, Aller Aqua appointed Niels Lundgaard Commercial Director of Africa. Niels focuses on expanding the business in the
Sub-Saharan countries, and has during recent years helped Aller Aqua Group start sales companies in both Nigeria, Ghana, Kenya to mention a few.
The group's structure with subsidiaries in Nigeria, Kenya and Ghana forms a strong base for customer service in the region. A distributor is in place in Rwanda, and Aller Aqua agents are in place
in Benin, Cameroon, Senegal and Tanzania. Besides this, there is direct export from Aller Aqua's German factory, Emsland-Aller Aqua, to Uganda and Madagascar. In the north of Africa, the company's
Egyptian factory, Aller Aqua Egypt, has just expanded to include its third production line. Further Tunisia, Morocco and Algeria is supplied via both the group's Danish and German factories.
To complete the setup Aller Aqua is currently building a factory in Zambia. The factory build will make Aller Aqua market leader of modern and environmentally friendly extruded fish feed for
aquaculture in Africa.
In Zambia Aller Aqua Group has partnered with Yalelo Limited as a key client. Yalelo has grown quickly to become one of the world's leading tilapia aquaculture companies. Alongside the construction
of Aller Aqua's Zambian fish feed factory, Yalelo has commenced an expansion project to increase production to 20.000-30.000 tons of Tilapia within the next few years, securing Aller Aqua Groups
commercial security in the country from offset. The fish feed factory gives Aller Aqua a great basis for expansion in Zambia, a country which aims to be self-sufficient with farmed fish – but also
the ability to export to neighbouring countries such as Angola, Zimbabwe, Mozambique, Botswana, Namibia, Malawi, Tanzania, South Africa and Congo.
Aller Aqua's research and development department, located in Germany, has formulated the feeds sold in Africa specifically for the region, considering the species and the nutritional and physical
quality for the environment the fish are farmed in. Both Tilapia and Catfish grow fast, and a high-performance feed enables faster and more economically efficient growth, resulting in improved
income to the farmer at harvest.
The growth in both aquaculture and population seen in Africa in recent years does not seem to stagnate.
"We have a solid set-up in Europe, whereas we in Sub-Saharan Africa see that we have big impact now. We focus our efforts where there is a need for high quality feed. The rising incomes and
developing economies in countries like Nigeria, Kenya and Ghana support this potential. Based on demand we have opened subsidiaries in all three countries. This, combined with our production
operations in Egypt and Zambia, made it an obvious choice to support the World Aquaculture 2017 event" says Hans Erik Bylling, CEO and owner of Aller Aqua.
Posted on : 15 Jun,2017
Buildmart is Africa's leading directory and market news website for the building and construction industry | Kenya | Tanzania | Rwanda | Ethiopia