Chinese firms see huge potential in Ghana construction market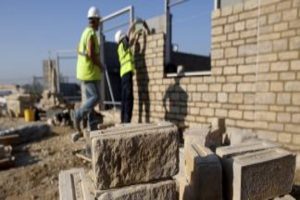 About 10 Chinese firms are taking part in the Water Africa and West Africa Building and Construction Exhibition in Ghana's capital, Accra.
The two-day event starts on Wednesday, aiming at providing the platform for firms to showcase their products and explore new business opportunities in Ghana.
Overall, more than 70 exhibitors from 22 countries are participating in the exhibition.
Chinese companies say Ghana's growing building, water and construction sector demands have generated lots of interest and are upbeat that endeavoring into the Ghanaian market promises huge returns.
For Leon, a Sales manager at Younio Water Meters Company, manufacturer of water meters in China, said Ghana, like other African countries, had become attractive to Chinese producers and they saw a big potential market in Ghana.
"WE WANT TO SEE IT FOR OURSELVES WHAT KIND OF NEW BUSINESS WE CAN DO AND IF THERE ARE ANY CHANCES TO COOPERATE WITH LOCAL COMPANIES OR GOVERNMENT OFFICE," HE TOLD XINHUA IN AN INTERVIEW.
"ALSO, THEY ARE VERY INTERESTED IN PRODUCTS FROM CHINA. I THINK THIS IS VERY GOOD; IT IS GOOD TO US. THIS IS A NEW MARKET TO US AND I THINK OUR PRODUCTS WILL GET GOOD RESULTS HERE. WE WILL LIKE TO FIND NEW PARTNERS OR NEW AGENTS HERE," HE SAID.
Ran Zhang, Marketing Manager at Oceanalpha Company, whose firm is visiting Africa for the first time, believes they are going to have very good opportunities and successful business in Ghana.
"THE RESPONSE IS VERY GOOD. AND ALSO IN THE MORNING GHANA'S MINISTER FOR WATER RESOURCES CAME OVER TO OUR BOOTH AND HE ADMIRED OUR PRODUCT AND SAID GHANA NEEDED THIS HIGH TECHNOLOGY TO PROTECT ITS WATER AND WE ARE VERY HAPPY TO HEAR THAT AND WE THINK WE ARE GOING TO HAVE GOOD FUTURE HERE," SAID RAN.
Posted on : 15 Jun,2017
Buildmart is Africa's leading directory and market news website for the building and construction industry | Kenya | Tanzania | Rwanda | Ethiopia