Construction underway on Africa first green design center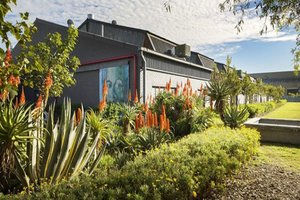 Trade Call Investments Apparel, or TCI Apparel, has broken ground on what is expected to be Africa's first green design center.
The move, taking place in Epping, illustrates the company's commitment to championing the causes of sustainable fashion, reports Nigeria Today.
Using industry leading practices to lower its carbon footprint, the building will be a state-of-the-art production center for local retailers such as Woolworth's, Truworth's, Edcon Group and Queenspark, as well as international retailers like Top Shop, River Island, Superdry and Urban Outfitters.
The design center is the first industrial building of its kind with a sharp focus on being environmentally sensitive, achieved through green building practices, officials said. These include the use of eco vinyl tiles, LED lighting, solar power, indoor plants, strategically tinted windows that retain heat in winter and expel it in summer, environmentally sensitive ceiling boards, living walls and a vegetable garden that will be used by the canteen providing meals for employees.
Given the current water crisis in the Western Cape, the design center has been engineered to save every drop possible. By using borehole water for ablutions, and redirecting rainwater that would otherwise have gone unused into 40,000-liter storage tanks, TCI Apparel are also cutting the costs of producing some of the world's top brands without sacrificing quality, officials said.
Posted on : 15 Jun,2017
Buildmart is Africa's leading directory and market news website for the building and construction industry | Kenya | Tanzania | Rwanda | Ethiopia