Tanzania: Kuwait Releases 110 Billion/ - for Tabora Road Construction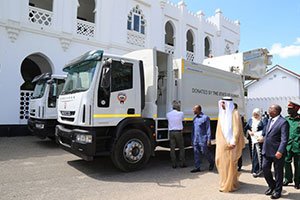 Tanzania has received 51 million US dollars (over 110bn/-) financial boost from Kuwait for construction of the 85-kilometre Chaya-Nyahua road in Tabora region.
President John Magufuli yesterday met the Ambassador of Kuwait in Dar es Salaam, Mr Jasem Ibrahim Al Najem and through him thanked the Kuwait government for the support, saying the new road will connect communication infrastructure between Singida and Tabora regions.
The envoy further handed over to President Magufuli two garbage collecting vehicles valued at 200,000 US dollars (over 400m/-) in support of the country's cleaning campaign.
"I request you to pass my appreciation to the Emir of the State of Kuwait for his exemplary contribution to the Tanzania's development and believe that the money we have received will help us to accomplish the remaining part of the 85-kilometre road," he said.
The president also thanked the government of Kuwait for support in the provision of social services to citizens, citing the 250,000 dollars that were provided for purchase of medical equipment at the Jakaya Kikwete Cardiac Institute (JKCI) and the drilling of 27 clean water wells for schools in Dar es Salaam and residents neighbouring the schools.
He further thanked the Kuwait government for the 50 million US dollars for construction of Mnazi Mmoja hospital in Zanzibar, asking the Arab nation to help on construction of the country's designated capital Dodoma as a sign of good cooperation between the two countries.
Dr Magufuli assured His Highness the Amir of the State of Kuwait Sheikh Sabah Al-Ahmad Al-Jaber Al-Sabah that Tanzania will strengthen its bilateral ties with Kuwait especially in economic issues, including the recent oil and gas discoveries in the country.
The ambassador told Dr Magufuli that his country was happy with the ongoing diplomatic bilateral ties, adding that Kuwait is ready to cooperate with Tanzania depending on the set goals and priorities.
Meanwhile, Dr Magufuli yesterday held talks at State House with a special envoy of the president of the Democratic Republic of Congo (DRC), Mr Leonard Okitundu who is also DRC's Vice Prime Minister and Foreign Minister, insisting that Tanzania supports the ongoing efforts to end the political dispute in the vast African state.
Apart from handing over to Dr Magufuli a letter from DRC President Joseph Kabila, Mr Okitundu said the situation in Congo was well and that talks to end the political impasse between the two sides were progressing well.
The president further met the special envoy of the president of Mozambique, Dr Atanasio Salvador Ntumuke who doubles as the minister for Defence.
In their conversations, Mr Ntumuke assured Dr Magufuli that his country will cooperate with Tanzania as the two countries have a long history, with Tanzania having played a significant role in the Mozambican liberation struggles from the colonial rule.
Posted on : 09 Jun,2017
Buildmart is Africa's leading directory and market news website for the building and construction industry | Kenya | Tanzania | Rwanda | Ethiopia