Plans set for the construction of High Grand Falls dam in Kenya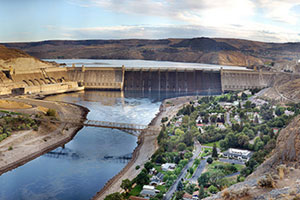 The government is set to build a US $ 1.4 billion High Grand Falls dam at Kibuka falls, River Tana in Tharaka constituency within the next six years.
This is predicted to boost the capacity of the Galana irrigation project to aid end food scarcity in the nation.
David Gikaria, vice chairman of Parliamentary Committee on Implementation, said the project will also profit Mwiku coal basin project.
The Nakuru Town East MP said the dam will cut across Tharaka Nithi, Embu and Kitui counties; he insistently blamed the setbacks on puffed up figures on planned compensation of affected locals.
"The Attorney General came up with a law to tackle the crazy figures in the compensation format. This will get rid of cartels who want to buy land so as to collect from the payout," he said.
He said at least 4,500 homes in the three counties will be displaced when the project begins.
"This has brought some political concerns as politicians do not want their people moved to other counties. "Gikaria said.
He said the Tana River Development Authority (TARDA) has appealed to the parliament for finances to carry out public awareness on the project.
"The government has acknowledged Akro Power, an investor who is all set to push US $ 1.4 billion and another US$ 57.9 million for compensation under a build-operate-transfer design," Gikaria said.
The dam will occupy about 5.6 billion cubic metres of water for irrigating more than 250,000 hectares of land and will also produce more than 700 megawatts of electricity.
It is part of the Vision 2030's Sh1.5 trillion Lamu Southern Sudan-Ethiopia Transport Corridor (Lapsset) projects.
The legislator said the project should have been accomplished in 1998 but has been experiencing delays just like other mega projects that took long before they were realized.
"We seem to have issues with this mega projects in this nation.
The standard gauge railway was to start in 1975. Thika super highway was to be constructed from as early as 1970's. We trust this one will soon be finished," the MP said, adding that the project's viability study will be assessed.
Posted on : 23 Feb,2017
Buildmart is Africa's leading directory and market news website for the building and construction industry | Kenya | Tanzania | Rwanda | Ethiopia