Uganda's Entebbe International Airport gets expansion impetus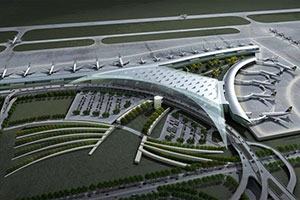 The expansion of Uganda's Entebe International airport is now expected to kick off after the government of Uganda received a grant worth $10Million from the government of South Korea.
According to Civil Aviation Authority (CAA) managing director Rama Makuza the project which will involve automation of the facility will see it become a world class airport with modern security.
Rama added that they expect the project to Kick off as soon as possible and end up on time so as to avoid unnecessary transport inconvenience that have been witnessed in the airport in the past few years.
"We are grateful to the republic of South Korea and KOICA for setting aside a $9.5m grant for the project, which commenced in March 2016, we as CAA have come up with counterpart funding of approximately $250,000 (Shs896m) towards the project that is expected to be fully delivered by 2018," he said.
Speaking while addressing a delegation from Korea and officials of the ministry of Works and that of Finance during the Korea International Cooperation Agency (KOICA) project midline workshop to showcase progress of the modernization and Automation of Entebbe International Airport held in Entebbe.
He assured them that the country will continue to keep the close ties so that they can help each other in growing the economy of the country.
He called upon the two countries to ensure that they create a long lasting mechanism for improving efficiency and aviation safety at the airport.
"We expect more passengers to entrust the facility as it will be modern and compared to any world class Airports" he added.
Once the project is over the official added that they will be a guaranteed steady economic growth which has been on a slow run for the last few years.
Posted on : 23 Feb,2017
Buildmart is Africa's leading directory and market news website for the building and construction industry | Kenya | Tanzania | Rwanda | Ethiopia