Salini Impregilo to Construct Dam in Omo River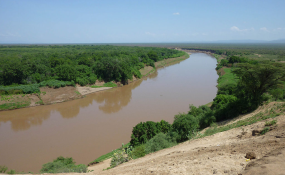 Salini Impregilo, has been awarded a 2.5 billion pound project by Ethiopian Electric Power to build a hydroelectric power dam which will have an installed capacity of 2,200MW.
The new Koysha Hydropower Dam on the Omo River will generate an estimated 6.4 million MWH of electricity annually.
Last year, the company completed a 1.6 billion dollar project of GIBE II hydroelectric power. Salini Impregilo Group founded in 2014 after the merger of Salini and Impregilo.
The total amount of electric power generated in 2014/15 was about 9.5 billion MWH, showing a 9.4pc annual growth compared to the preceding fiscal year.
Only five per cent of 45,000MW the country's hydropower exploitable reserve has been exploited, while the per capita electricity consumption of the country is 105kWh per year.
The EEP estimates that the energy sector could cost the country 25 billion dollars by 2020.
Posted on : 01 Aug,2016
Buildmart is Africa's leading directory and market news website for the building and construction industry | Kenya | Tanzania | Rwanda | Ethiopia