Despite forthcoming polls, the construction industry continues upbeat.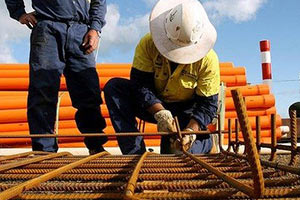 The ongoing pandemic has been a stomach hit for everyone, not just those in the sector.
Following the World Health Organization's (WHO) declaration of the Covid-19 outbreak as a pandemic almost two years earlier, governments throughout the world enacted extraordinary lockdown measures that slowed economic activity, notably in the second and third quarters of 2020.
What began as a typical year quickly turned into the most difficult season in recent memory.
According to figures from the Kenya National Bureau of Statistics (KNBS), Kenya's GDP shrank by an estimated 0.3% in 2020, after growing by 5.0 percent in 2019.
According to the statistics, Kenya's cement market shrank by 2.3 percent that year (2019), with national cement consumption ending the year at 5.9 million tonnes due to slower-than-expected activity.
What's more, in the epidemic year of 2020, the cement market rose by an average of 23% year on year, reaching 7.3 million tonnes.
This signalled a rebound in manufacturing and building activity, defying the pandemic's economic slump. People took advantage of the opportunity to begin or complete building projects, while a number of scheduled government infrastructure projects also got underway, contributing to the rising trend.
This is a global trend that has been observed. According to the 14th Edition of the Global Cement Report, published at the beginning of the year, global cement consumption is expected to rise by 4.65 percent in 2021 and 2.45 percent in 2022, after declining by 0.23 percent in 2020.
The large infrastructural projects with pressure to complete current projects under the Big Four agenda have been the key drivers of the sector in our market. The projects are scheduled to continue during the current election season.
To meet the challenges of this complicated environment, we aimed to increase our efforts to develop the business through product innovation, re-engineering our route to market, cost-cutting activities, and digital transformation projects to improve business flexibility and performance.
Our profits have already reflected the development - our turnover climbed to Sh19.6 billion in the first half of 2021, up from Sh16.2 billion in the same time the previous year.
As we continue to support the government's Big Four Agenda projects, particularly affordable housing and key infrastructure projects such as bridges, ports, dams, roads, bypasses, and road interchanges, we recognise that realising benefits from an improving economy requires not only adaptability but also innovation.
We are able to assist the implementation of projects such as the Nairobi Expressway, Dongo Kundu bypass, Lamu port, Mombasa port, ongoing bridges in Mombasa and Malindi, Thwake dam, various affordable housing projects, and roads by investing in the proper capacity.
Solutions that serve the demands of individual house builders, investors, and community initiatives are also critical, particularly in terms of affordability and low-carbon building as the sector strives for Net Zero.
We ended the year by announcing the introduction of futuristic 3D home printing technology onto the Kenyan market. Bamburi Cement will supply our revolutionary construction materials to Africa's largest 3D printed affordable housing project in Kenya, Mvule Gardens, which will be erected by 14Trees in Kilifi in early 2022.
In 2022, the East African cement markets are predicted to rebound in a V-shaped pattern. Regardless of how much surplus cement capacity is invested in the region, steady or growing utilisation levels will offer a foundation for greater profitability, but only for the most forward-thinking cement businesses.
Posted on : 02 Feb,2022
Buildmart is Africa's leading directory and market news website for the building and construction industry | Kenya | Tanzania | Rwanda | Ethiopia