Major projects in Tanzania all set to boost the economy by 2025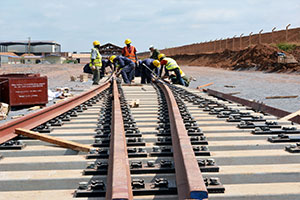 Eastern Africa countries have amplified investment in infrastructure projects in the past 5 years with Tanzania leading in terms of the value and number of projects that broke ground by June last year.

The Government have started to implement the National Five-Year Development Plan 2016/17 – 2020/2021, which targets at fostering industrialization for economic transformation and human development.

Through a partnership between Tanzania, China and Oman, the aspiring Bagamoyo port is now being established in Tanzania, along with around 190 industries built throughout a 1,700-hectare special economic zone adjacent to the port.

This mega infrastructure project costing US $11bn is designed to become Africa's largest port. The port is built to be able to handle 20 million containers annually once it's finished by 2045. The project is said to position Tanzania into a regional economic powerhouse.

Tanzania is all set to become the 3rd country in East Africa to start relishing modern railway services after its neighbouring States Kenya and Ethiopia.

The Government of Tanzania is also on the mission of constructing a new electric railway line by means of domestic resources from Dar es salaam – Morogoro – Dodoma about 700 Km. The entire projects cover a distance of about 2,707 Km, with 3 branches from Dar es salaam, Tabora - Kigoma (1,251 kms); Tabora – Mwanza (379 kms) and Kaliua – Mpanda (210 kms).

This project is anticipated to progress transportation of cargo and passengers in the central corridor. It is expected to lessen time and freight for cargo destined to bordering countries like Rwanda, Burundi, Uganda and DRC.

The project is major part of programme to expand the East African Nation's infrastructure which will be built in Msalato, 12 km from Dodoma. The project will also comprise of a passenger terminal, runway and related infrastructure.
Posted on : 11 Jul,2021
Buildmart is Africa's leading directory and market news website for the building and construction industry | Kenya | Tanzania | Rwanda | Ethiopia