Kenya starts construction of the Kirinyaga County Wang'uru Stadium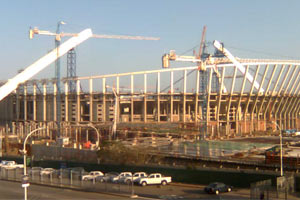 The Government of Kenya, through the Ministry of Sports Culture & Heritage of Kenya (Sports Kenya), has begun construction of the nearly USD 2.8 million Wang'uru Stadium in Mwea, Kirinyaga County. According to the State Department for Public Works, Chief Secretary Gordon Kihalangwa, the contractor, Vee Vee Construction is already on site and government engineers are closely monitoring the project to ensure that it meets the defined specifications and that it is completed on time.
The project consists of the construction of a VIP concrete stadium which will be composed of builders working on elements such as substructures, reinforced concrete superstructures, roofing, walls, doors, windows, finishes, balustrades & railings, and related advanced mechanical and electrical work. The next part of the construction will be of the steel pavilions consisting of concrete substructures, steel superstores and other works including the standardization of pitch and race tracks, the building of leisure facilities, boundary walls, change rooms and ablution blocks, among other support facilities.
It is estimated that the whole project will take approximately six months to complete. PS Kihalangwa affirmed that he has visited the site personally and that the project is going well so far.
The project is the outcome of instructions given sometime earlier this year by the President of the Republic of Kenya, His Excellency Uhuru Kenyatta. During a tour of the area where he had a meeting at the plant, the president was speaking.
He said it was a bit sad that athletes, especially during the rainy seasons, could not use the stadium, which lacked adequate facilities. He therefore ordered that money be allocated for renovation work for the stadium to begin within the shortest possible period.
Posted on : 07 Oct,2020
Buildmart is Africa's leading directory and market news website for the building and construction industry | Kenya | Tanzania | Rwanda | Ethiopia