The construction of the Magomeni in Tanzania is expected to be finished early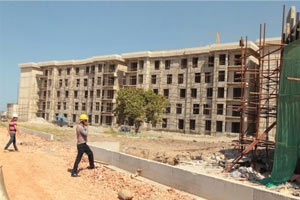 The construction of the new Magomeni residential buildings in Dar Es Salaam is scheduled to be completed by December of this year. According to Daudi Kondoro, CEO of the Tanzania Building Agency, the project management firm. Mr. Kondoro spoke after an announcement by Eng. Isack Kamwelwe, Minister of Works, Transport and Communications, said that the Government of the United Republic of Tanzania had committed some 16 billion dollars in this year's budget to complete the project.
"At the moment, the construction works of the project have already reached more than 70% and we are really looking forward to receiving the allocated funds to finalize the project so that the residents can move in," explained the CEO of TBA.
Located on a 20 acre piece of land that initially housed the Magomeni quarters, the entire project consists mainly of a commercial complex consisting of five residential blocks spread over a three acre piece of land and commercial infrastructure, including shops, restaurants, etc. Each of the blocks is about eight floors up and has 16 apartments. The apartments are divided into two categories: "family apartments" and "bachelor apartments." The family apartments consist of two bedrooms, a sitting room, a toilet and a bathroom, a kitchen and a laundry area, while the bachelor's apartment consists of a single bedroom, a sitting room, a toilet and a bathroom, a kitchen and a laundry area.
Upon completion, the Magomeni residential buildings are expected to house about 644 people who surrendered their land in the Magomeni quarters of that time to carry out the project. President Magufuli ordered that people be allowed to live in new apartments, when complete, for a period of five years without paying a dime.
Posted on : 07 Oct,2020
Buildmart is Africa's leading directory and market news website for the building and construction industry | Kenya | Tanzania | Rwanda | Ethiopia